Ada Dolores "Dee" Zaborek
September 20, 1924 - April 7, 2014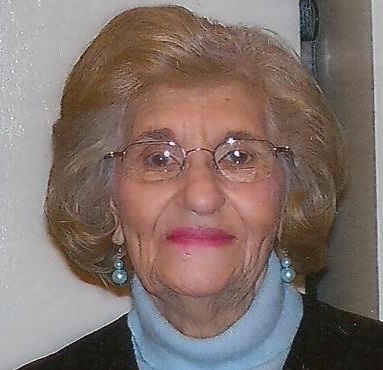 Ada Dolores "Dee" Zaborek, 89, of Janesville, WI passed away peacefully on Monday, April 7, 2014. She was born in Letart Falls, Ohio, on September 20, 1924, the daughter of Roy M. Roush and Elizabeth (Cleland) Roush. She attended business college in Columbus, Ohio she moved to Washington, D.C. where she worked at the Pentagon for a short time. She married Henry W. Zaborek of Edgerton, WI in Rockville, Maryland on May 19, 1945 then moved to Edgerton. They purchased the Edgerton Home Bakery in 1966. She and her husband operated the bakery until 1974. They moved to Watertown, WI where they purchased the Rathskeller Bar in 1973. Dee continued to live in Watertown until moving to Janesville where she went to work for Shopko working there for 15 years until she retired. Mr. Zaborek preceded her in death in December 25, 1990. Dee enjoyed taking vacations to Florida, cooking, reading and collecting antiques.
Surviving are her children, Beth (Dale) Doerr of Clermont, FL, Susan (Jack) Ylvisaker of Janesville with whom she had made her home, Steve (Rose) Zaborek of Watertown, WI, 6 grandchildren, Kristine Murray and Erin Rynning both of Las Vegas, NV, Jennifer Wade of Machesney Park, IL, Jeremie Ylvisaker of Long Beach, CA, Zackary Zaborek of Watertown, WI, Nickolas Zaborek of Madison, WI, 4 great-grandchildren, Annika Murray, Kaitlyn Murray and Megan Murray all of Las Vegas, NV, Sydney Ylvisaker of Machesney Park, IL. In addition to her husband and parents, Dee was preceded in death by 2 sisters, Frances and Kathryn and a brother, Leonard.
DEE'S FAMILY WOULD LIKE TO GIVE A SPECIAL THANK YOU TO AGRACE HOSPICECARE, ESPECIALLY ANGIE AND AMY FOR THE WONDERFUL CARE THEY GAVE HER.
A memorial service will be at 1 p.m. Monday, April 14, 2014 at Henke-Clarson Funeral Home, 1010 N. Wright Rd., Janesville. Father Stephen J. Umhoefer will officiate. The family will meet friends from Noon to 1 p.m. Monday at the Henke-Clarson Funeral Home.