Alice M. Walhovd
October 4, 1939 - February 25, 2017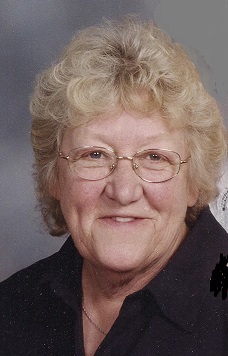 Alice M. Walhovd, 77, of Janesville died Saturday morning, February 25, 2017 at St. Elizabeth Manor. Alice was born in Janesville on October 4, 1939, the daughter of Leonard and Lucy (Pautsch) Hoff. She graduated from Janesville High School and attended cosmetology school. Alice married Leslie N. Walhovd Jr. on May 21, 1960. He preceded her in death on June 10, 1999. Alice had few part-time jobs outside the home over the years but the job she enjoyed the most was being a full time homemaker and a "mother to many". She was a member of Mt. Calvary Lutheran Church.
Alice Walhovd is survived by three children, Patti (Tony) Grezka, Susan (Dan Matt) Walhovd, Bruce (Lin) Walhovd, five grandchildren, Phillip, Josh, Justin, Jenna and Clarissa, three brothers, Robert (Karen) Hoff, Joe (Diane) Hoff, Leroy Hoff, her sister, Lois Hoff and her sister-in-law, Katie (Rich) Hauck. In addition to her husband and parents, she was preceded in death by a daughter, Christine, a son, Daniel, a grandson, Zachary, three brothers, Lester, John and Ronald Hoff and a sister-in-law, Sue Hoff.
"Alice's family wishes to extend a special thank you to her sister-in-law Karen for all she has done for our mom".
Funeral services will be at 1 p.m. Friday, March 3, 2017 at Henke-Clarson Funeral Home, 1010 N. Wright Rd., Janesville. Private burial will be in Oak Hill Cemetery. Visitation will be Friday, March 3rd from 10 a.m. until 1 p.m. at Henke-Clarson Funeral Home.