Allan C. Rosenthal
March 2, 1940 - January 20, 2012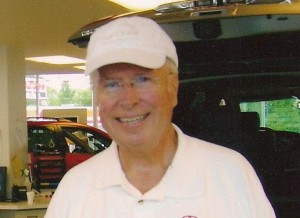 Allan C. Rosenthal, 71, of Janesville entered the Kingdom of Heaven on January 20, 2012. He was born on March 2, 1940 in Chippewa Falls, WI , the son of Carl and Edna (Hebel) Rosenthal. He graduated from high school in Cadott, WI and attended U-W Eau Claire. He married Eunice Altvater on August 27, 1961. Allan was employed in automobile sales in Janesville for many years working for Harrison Chevrolet-Cadillac and Phil Grover's Toyota Classics. He later owned and operated his own auto sales business for several years prior to working for Hesser Toyota from which he retired. Allan was a long-time member of Faith Center in Rockford, IL where he was ordained as a minister. He was a former member of the Gideon's. He loved motorcycles, Farmall tractors and antique cars.
Surviving are his wife, Eunice, 1 son, Keith (Rhoda) Rosenthal of Rockford, IL, 1 daughter, Valerie ( Todd) Herr of Janesville, 4 grandchildren, Lance and Connor Rosenthal, Justin and Katelyn Herr and 1 brother, Bernard (Margaret) Rosenthal of Colorado Springs, CO. In addition to his parents, Allan was preceded in death by a brother, Vernon.
Funeral services will be at New Life Assembly of God, 2416 N. Wright Rd., Janesville on Wednesday, January 25, 2012 at 11 a.m. Pastor Michael Jackson and Pastor Dale Raatz will officiate. Burial will be in Milton Lawns Memorial Park. Visitation will be from 9:30 to 11 a.m. Wednesday at New Life Assembly of God. The family is being assisted by Henke-Clarson Funeral Home. www.henkeclarson.com.