Alta Belle Kellogg
April 5, 1912 - February 5, 2015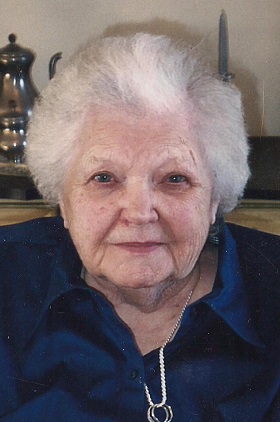 Alta Belle Kellogg, 102, a longtime Janesville resident passed away peacefully on Thursday, February 5, 2015 at Evansville Manor. Alta was born on April 5, 1912 in Belvidere, IL, the daughter of Elbert and Hatty (Nickles) Boardman. She attended school in Belvidere. She married Bennett Kellogg on December 27, 1930 with whom she spent the next very happy 35 years. They lived in Illinois, Wisconsin, Michigan and Texas during that time. Bennett preceded her in death in 1965 and she returned to Janesville for the duration of her life. She was a longtime employee of Woodman's Grocery starting in Willard Woodman's first store at the corner of Milton Avenue and Sherman Avenue in Janesville. Upon her return from Texas, she was employed at the Wisconsin State School for the Visually Handicapped from which she retired in 1977. During retirement she enjoyed her family, many friends, her church (Cargill United Methodist Church) and traveling.
Alta is survived by her daughter, Janice (Tom) Redfield, her grandsons, Thomas (Lorrie) Redfield Jr., Bennett (Stacy) Redfield, five great-grandchildren and four great-great-grandchildren.
For the last eight years of her life, Alta resided at Evansville Manor. The family wishes to thank the excellent staff for the good care and many enjoyable times there.
Funeral services will be at 11 a.m. Tuesday, February 10, 2015 at Cargill United Methodist Church, 2000 Wesley Avenue Janesville. Rev. Forrest R. Wells will officiate. Burial will follow in Oak Hill Cemetery. Visitation will be Tuesday from 10 to 11 a.m. at the Church. The family is being assisted by Henke-Clarson Funeral Home.