Alton Myron "Bud" Arneson
November 25, 1924 - August 18, 2014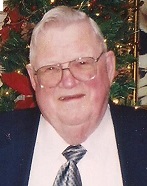 Alton Myron "Bud" Arneson, 89, of Janesville died Monday, August 18, 2014 at St. Mary's Janesville Hospital. He was born on November 25, 1924 in Gary, IN, the son of Albert and Rose (Watkins) Arneson. He was a life-long Janesville resident. He entered the U. S. Navy in 1943 and served as a fire control man 3rd class aboard the USS Princeton when it sank in the Battle of Leyte Gulf. .He graduated with the Janesville High School Class of 1945 in absentia while serving in the Navy. Bud married Lillian Butler on June 7, 1947 at First Lutheran Church in Janesville. He was in the meat business all of his life and was the owner of Johnstown Food Center for 45 years until retiring in 2013. Bud enjoyed spending time with his family at the cottage on the lake, hunting, fishing, Friday night fish fries with his wife, Lil, bowling and experimenting with new recipes for his sausage and jerky. He was a member of the Moose Lodge # 197, Elk's Lodge # 254, Kienow-Hilt V. F. W. Post # 1621 and Good Shepherd Lutheran Church.
Bud always got a laugh while with family and friends breaking into an old navy song, "Barnacle Bill the Sailor".
Survivors include his wife, Lillian, 3 sons, Mike (Carol), Dale (Kris), Mark (Diana), grandchildren, Jon (Lorie) Arneson, Julie Arneson, Kristin (Chris) Mahr, Brett Arneson, Kirk (Amanda) Arneson and Katherine (B.J.) Forde, 8 great-grandchildren, sisters-in-law, Harriet Splinter and Bea Hanson and brother-in-law, Dick Messner. In addition to his parents, he was preceded in death by his brothers and sisters, Lila (Herman) Buehl, Gilbert (Vi) Hanson, Victor Hanson, Sherman (Mary Ann) Arneson and Darlene Messner.
Bud will be sadly missed by his loving wife, his family and friends and his beloved dog Princess.
Funeral services will be at 11 a.m. Thursday, August 21, 2014 at Good Shepherd Lutheran Church, 700 N. Wright Road, Janesville with Pastor Steven Ekblad officiating. Visitation will be from 10 to 11 a.m. Thursday at the Church. Burial will be in Milton Lawns Memorial Park with military rites by Kienow-Hilt V.F.W. Post # 1621. In lieu of flowers, memorials may be made to Home Health United Hospice or Good Shepherd Lutheran Church. The family is being assisted by Henke-Clarson Funeral Home.
A special thank you to Home Health United, especially Rachael, Melissa, Tina and Tayla for all of your support and to St. Mary's Janesville Hospital for the wonderful care Bud received while a patient there.