Alvin C. "Bud" Floen
March 19, 1923 - September 17, 2012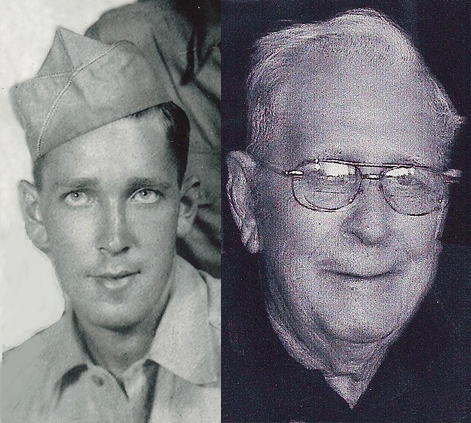 Alvin C. "Bud" Floen, 89, of Janesville died Monday, September 17, 2012 at Cedar Crest Assisted Living Facility. He was born in Janesville on March 19, 1923, the son of Thomas and Marie Floen. He attended Janesville High School and was a member of the U. S. Army during World War II. He served in the Battle of the Bulge, was a prisoner of war and received the Purple Heart for his service. Alvin married Dorothy M. Wellnitz at St. Mary's Catholic Church in Janesville on June 14, 1947. He was employed by General Motors for over 40 years retiring in 1988. He was also owner and operator of Lucky's Pick-Up Service and drove school bus for the City of Janesville. Bud was a member of U.A.W. Local # 95.
Bud was preceded in death by his wife, Dorothy on May 13, 2004. He was also preceded in death by his daughter, Barbara Hallett, his parents, two brothers, Elmer and Stanley and one sister, Gladys Lauer. He is survived by his son-in-law, Richard (Julie) Hallett, two grandchildren, Ed (Pam) Hallett and Susanne Hallett, two great-grandchildren, Andrew and Dylan Hallett, brother-in-law, George Wellnitz, sister-in-law, Marion (Russ Rieck) Wellnitz, numerous nieces and nephews.
Visitation will be Saturday, September 22,2012 from 10 to 11 a.m. at Henke-Clarson Funeral Home, 1010 N. Wright Rd., Janesville to be followed by funeral services at 11 a.m. Father Kevin Dooley will officiate. Entombment will be in Milton Lawns Memorial Park Mausoleum. Military rites will be conducted by Kienow-Hilt V.F.W. Post # 1621. Memorials may be made to the Rock County Humane Society. The family is being assisted by Henke-Clarson Funeral Home.