Ann M. Iwen
April 11, 1930 - October 18, 2013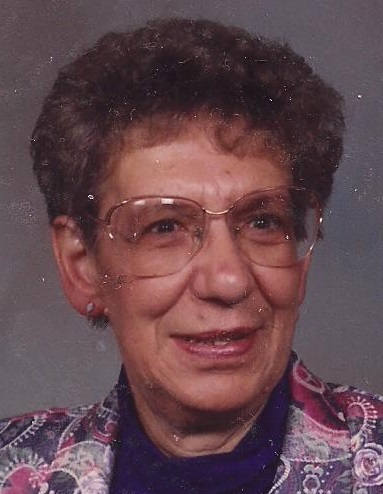 Ann M. Iwen, 83, a long-time Janesville area resident passed away Friday, October 18, 2013 at Heartwarming House in Milton. Ann was born at Medford, WI on April 11, 1930, the daughter of Joseph and Anna (Sickinger) Fuerlinger. She grew up in the Merrill, WI area and had resided in the Janesville area for the past 60 years. Ann was employed in the office at General Motors for 30 years and later worked at the Oasis Cheese Shop and Carpet Mart. Ann's faith was very important to her and she was a devoted member of St. William Catholic Church. She formerly took communion to shut-ins and volunteered for Meals On Wheels.
Ann Iwen is survived by her daughter, Linda Stone of Janesville, two grandchildren, Kimberly (Daniel) Rapson of Hanover, WI, Kendall (Paige) Stone of Waterford, MI, two great grandchildren, Nathaniel and Jesse Rapson, one brother, Joseph J. (Marlene) Fuerlinger, three sisters, Louise Krause, Fran Berkhahn, Angie Homer, a sister-in-law, Harriet Fuerlinger other relatives and friends. She was preceded in death by her parents, and a brother, John Fuerlinger.
"Ann will be greatly missed by family and friends, especially her great-grandsons who put the sparkle in her eye and brightened her day."
A Mass of Christian Burial will be held at 11 a.m. Tuesday, October 22, 2013 at St. William Catholic Church with Father John Auby officiating. Burial will follow in Mt. Olivet Cemetery. visitation will be from 10 to 11 a.m. Tuesday at St. William Catholic Church. The family is being assisted by Henke-Clarson Funeral Home.