Anne Marie Kjornes
November 21, 1957 - February 11, 2015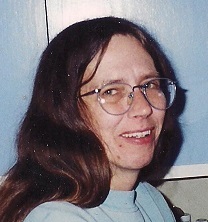 Anne Marie Kjornes, 57, of Janesville died Wednesday, February 11, 2015 at Agrace Center of Hospice and Palliative Care. The former Anne Marie Ullrich was born in Janesville on November 21, 1957 and attended Parker High School. She had a "green thumb" who enjoyed working at various area plant farms thru the years. Anne was known as a loving mother to everyone in her neighborhood.
She is survived by 3 sons, Jedediah (Kimberly), Joshua and Joey Kjornes, 4 grandchildren, Meliahnna, Joshua Jr., Macen and Zakariah, her former husband to whom she was married for 30 years, Keith Kjornes and her half brother, Kenneth (Betty) Olson. She was preceded in death by her parents Donald Ullrich and Alice (Olson) Ullrich.
A visitation will be from 2 to 3 p.m. Monday, February 16, 2015 at Henke-Clarson Funeral Home, Janesville with services to follow at 3 p.m. Monday.