Arlene Mae (Marsh) Thompson
October 28, 1924 - July 9, 2016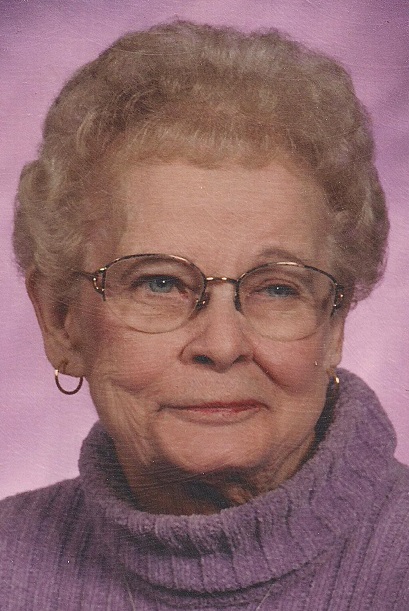 Arlene Mae (Marsh) Thompson, 91, of Janesville passed away July 9, 2016 at Agrace Center for Hospice and Palliative Care. She was born on October 28, 1924 in Janesville, the daughter of William and Martha (Kliefoth) Marsh. Arlene graduated from Janesville High School in 1942 and married Edward C. Thompson on April 4, 1944. She was formerly employed as a waitress at the Steakhouse and the Janesville Country Club and after she retired from there worked several years at Harris Ace Hardware. She was a life long member of St. Peter's Lutheran Church and a member of the V.F.W. Auxiliary. She enjoyed bowling, playing cards, knitting and counted cross stitch. Arlene was an avid Brewers and Packers fan. For the past 12 years, Arlene had resided at Cedar Crest where she was active in numerous activities including being a Communion Helper, served on the Worship Committee and enjoyed doing ceramics.
Arlene's family wishes to thank Agrace Hospice Care for their many kindnesses while she was on this journey. Also, thanks to the many friends she made at Cedar Crest over these past 12 years and her Sunday Packer party family.
Arlene Thompson is survived by three children, William (Joan) Thompson of West Bend, WI, Loren (Sherrie) Thompson of Janesville, Diane (Alan) Utzig of Janesville, seven grandchildren, Nicole (Tony) Walker, Dr. Christopher (Heather) Thompson, Amanda (Jeff) Dabson, Sarah (Adam) Thompson, James (Kim) Thompson, Courtney (Kyle) King, Taylor Utzig and eleven great-grandchildren. She was preceded in death by her husband, Edward Thompson on September 20, 2002. Her parents, her sister, Esther and her granddaughter, Cara also preceded her in death.
Funeral services will be held at 1 p.m. Wednesday, July 13, 2016 at St. Peter's Lutheran Church, 1422 Center, Avenue, Janesville. Rev. Bruce Gray will officiate. Visitation will be at St. Peter's Lutheran Church on Wednesday from 11 a.m. until 12:45 p.m. with a V.F.W. Auxiliary service to follow at 12:45. Burial will be in Oak Hill Cemetery. Memorials may be made to Agrace HospiceCare, St. Peter's Lutheran Church or ECHO. The Thompson family is being assisted by Henke-Clarson Funeral Home.