Barbara E. Jones
October 9, 1935 - October 17, 2010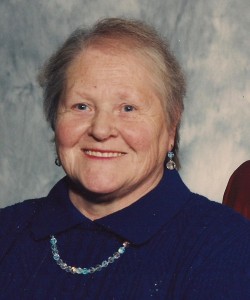 Barbara E. Jones, 75, of Whitewater, WI, a former long-time Janesville resident passed away peacefully on Sunday, October 17, 2010 at Willowfield Nursing and Rehabilitation Center in Delavan. She was born on October 9, 1935 in Milton the daughter of David and Violet (Stelter) Powell. She graduated from Whitewater High School and married Donald H. Jones on December 15, 1952. Barbara was employed by the Janesville Gazette for over 40 years as a regional distributor. She was a member of Afton Community Church, the Becker-Godfrey V.F.W. Auxiliary of Milton and Women of the Moose # 477 of Janesville. She was a Past Grand Royal Matron of Amaranth for the State of Wisconsin and was active in numerous other Masonic Orders. Barbara enjoyed camping, being a homemaker, playing cards, bingo, traveling and being with her family above all else.
Barbara's family includes her husband, Donald H. Jones of Whitewater, 3 children, Harry Jones of Janesville, Alyn (Debra) Jones of Whitewater, Debra (Craig) Edmundson of Stevens Point, WI, 11 grandchildren, 15 great-grandchildren, 1 brother, John (Joyce) Powell of Afton, 2 sisters, Marjorie (Jim) Hanlon of Milton, Elaine (Linda Borgwardt) Powell of Janesville, a sister-in-law, Beverly Powell of Milton, a brother-in-law, Wayne Dietz of Milton and numerous nieces and nephews. She was preceded in death by her parents, a brother, David Powell and 3 sisters, Charlotte Tews, Ora Mae Zimmerman, Beverly Dietz and a brother-in-law, Lyle Zimmerman.
Funeral services will be at 11 a.m. Thursday, October 21, 2010 at the Afton Community Church, 5126 S. County Road D, Afton with Pastor Philip Ramsey officiating. Visitation will be from 4 to 7 p.m. Wednesday, October 20th at the Janesville Masonic Center, 2322 E. Milwaukee St., Janesville with a Grand Court of Order of the Amaranth Memorial Service at 6:45 p.m. Wednesday. Entombment will be in Milton Lawns Memorial Park Mausoleum. A memorial fund will be established in Barbara's name. Assisting the family is Henke-Clarson Funeral Home, Janesville. www.henkeclarson.com.