Bernard R. Thompson
January 1, 1918 - October 9, 2014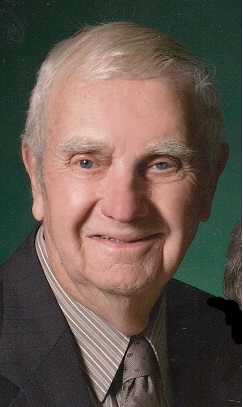 Bernard R. Thompson, 96, of Janesville died October 9, 2014 at his home. He was born January 1, 1918 to Carl and Anna Thompson. Bernie was a graduate of Brodhead High School. He was married to Evelyn (Guse) Thompson for over 77 years. She went to be with her Lord on February 7 of 2014. Bernie served in the Army Air Corps during World War II and trained many pilots. He also attended Western Michigan University. Bernie was employed as service manager by Rock County Buick for over 35 years.
Bernie enjoyed his retirement and led a very active lifestyle. He was an avid hunter and fisherman. He also taught 4 H youth archery for many years. He was a past member and past president of the Conservation Club and a current member of Golden K Kiwanis. He enjoyed playing cards with family and friends. He loved teaching his grandchildren and great grandchildren archery and guns as well as hunting. He enjoyed spending time with his family and was always very proud of their accomplishments. Bernie had a vibrant personality and loved life and people. He had a love for flying and had his own plane, flying for many years after his years in the service.
Bernie is survived by his children, Bruce, Terry (Marvel), Linda (Earl) Zarbock, Dale (Norma) and daughter-in-law, Marilyn (Bernie Jr.). In addition, he has 7 grandchildren and 17 great-grandchildren. He is also survived by a sister, Helen of Reedsburg, brother-in-law, Roger Guse of Belmont, CA and sister-in-law, May Jones of Madison. Bernie was preceded in death by his wife, Evelyn, son Bernard Jr. and sisters, Alice Hurd and Grace Ward.
Per Bernie's wishes a memorial service will be held at St. Paul's Evangelical Lutheran Church , 210 S. Ringold Street, Janesville at 1:30 p.m. Monday, October 13, 2014. Pastor Daniel Decker will officiate. Visitation is at the church on Monday from 12:30 to 1:30 p.m.. In lieu of flowers, a donation to St. Paul's Evangelical Lutheran Church or the charity of your choice would be appreciated. The family is being assisted by Henke-Clarson Funeral Home.