Bernice Ransom Hodge
August 21, 1913 - April 6, 2013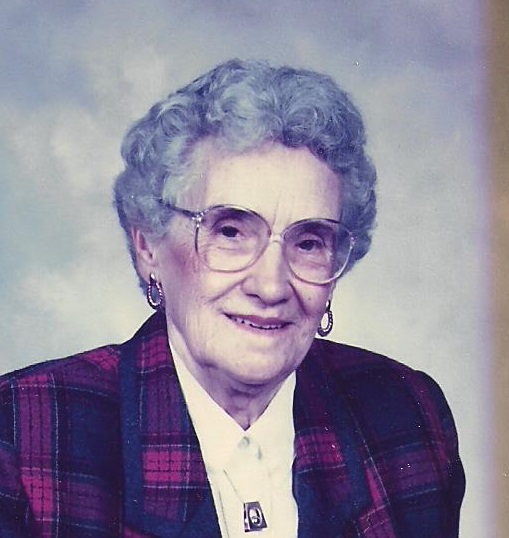 Janesville, WI, – Bernice (Bea) Ransom Hodge died Saturday, April 6, 2013, at Cedar Crest, in Janesville, WI. She was born on August 21, 1913, in Avalon, WI to Gladys (Brown) and Arthur George Ransom.
She attended Avalon Schools and graduated from Janesville High School. After graduation, Bernice attended Rock County Normal College and received certification to become a teacher in the one room country schools of Rock County. At the age of 19 she got her first job, and that was the beginning of a life long career that she dearly loved. After 8 years of teaching, Bernice married Edward William Hodge on August 3, 1939 and they farmed together in LaPrairie Township. She took some time off from teaching to raise 3 boys but returned to the classroom to teach in Janesville Consolidated schools in 1955. Bernice's husband passed away in 1957. While running a farm with her 3 sons, she continued teaching in the Janesville schools at Lincoln, Roosevelt, Wilson, and Jefferson Elementary. At the same time that she was teaching and farming, she returned to college and earned a Bachelors in Elementary Education and a Masters in Library Science from University of Wisconsin – Whitewater and continued her career as an elementary school librarian. Bernice's favorite thing was to teach kids how to read and open their lives to the joy of books. She retired in 1978 but continued to substitute until she was 80.
Bernice loved her country home, cherished her walks in the pasture and the pine forest, and delighted in the "Wind Flower Picnics" with the grandkids. She loved reading, baking cookies for the grandkids her "Peter Rabbit" collection, and going out to breakfast. She was very proud of the heritage that made her eligible for membership in the Daughters of the American Revolution. Bernice also enjoyed being a docent at the Tallman House in Janesville. She was a life long member of the First Congregational Church of Janesville.
Bernice is preceded in death by her parents, her husband Edward Hodge, a sister, Virginia Nelson and a brother, Arthur Ransom. She is survived by her three sons, James, David, and Robert, 8 grandchildren: James (Sarah) Hodge, Sarah Cryer, David Hodge, Susan Hodge, Cindy Schuenke, Sandra Hodge , Jason Hodge and Jeff Hodge, and numerous great grandchildren.
A private service is planned at Emerald Grove Cemetery. Henke – Clarson Funeral Home is handling the arrangements. In lieu of other expressions of sympathy, memorials may be given in Bernice's name to Cedar Crest.
The family of Bea Hodge would like to thank the staff of Cedar Crest Memory Care for their loving care and compassion.