Beth L. Carlson
March 20, 1929 - October 4, 2016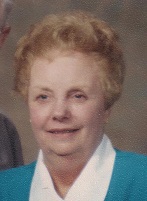 Beth L. Carlson, 87, of Janesville died Tuesday, October 4, 2016 at her home. Beth was born in Madison, WI at Madison General Hospital on March 20, 1929, the daughter of Frank and Sylvia (Holt) MacFarlane. She graduated from Janesville High School in 1947. She married Sidney W. Carlson on May 14, 1949. Beth was formerly employed by Wisconsin Bell Telephone Company, the Steak House, Campbell's Hardware Store and retired from Panoramic Corporation. She was a charter member of Asbury United Methodist Church where she formerly taught Sunday School. Beth was a former scout leader and was a member of Women of the Moose # 477. She had been active with the Janesville Senior Center Choristers, enjoyed camping, playing bingo, going to the casinos and above all else, spending time with her family.
Beth Carlson is survived by three sons, Mark (Janet) Carlson and Gary (Connie) Carlson all of Janesville, Eric Carlson of Green Bay, WI, eight grandchildren, Kelli (Scott) Stuttgen, Chad Carlson, Cory Carlson, Casey (Jessica) Carlson, Rebecca (Jeremy) Deegan, Paulette Castillo, Jessica (Tony) Carlson, Elizabeth (Josh) O'Leary, 19 great-grandchildren, two half -brothers, Bruce Forrette and Terry (Linda) Forrette and her brother-in-law, William Jacobson. She was preceded in death by her husband, Sidney Carlson on January 31, 2004. Her parents, brother, Curt MacFarlane and sister, Joan Jacobson also preceded her in death.
Funeral services will be at 11 a.m. Monday, October 10, 2016 at Henke-Clarson Funeral Home, 1010 N. Wright Rd., Janesville. Rev. Will Jewson will officiate. Burial will be in Oak Hill Cemetery. Visitation will be on Monday from 10 to 11 a.m. at Henke-Clarson Funeral Home. Beth's family wishes to thank Agrace Hospice Care and their volunteers along with Dr. Lilly and Dr. Batty for their exceptional care of Beth.