Bette Jane Rasmussen
June 20, 1926 - January 17, 2016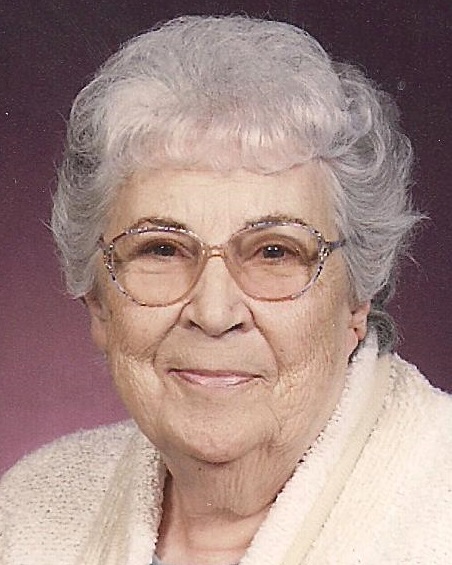 Bette Jane Rasmussen, age 89, of Janesville died on Sunday, January 17, 2016 at her home. She was born in Stetsonville, WI on June 20, 1926, the daughter of the late Maurice and Lillian (Mueller) Kuzinski. She married Joe A. Rasmussen on October 11, 1947. Following his death in 1980, Bette at the age of 55 got her GED and then took a job at Hedberg Public Library where she worked until retiring in November of 1999. Bette was a member of Peace Lutheran Church. She enjoyed camping, fishing, crossword puzzles and going up north to the family trailer. Bette was a wiz at Dr. Mario and Tetris. Above all else, she enjoyed spending time with her grandchildren and family.
Bette is survived by her children, Dawn (Steve) Henning of Janesville, Denice (Bennie) Johnston of Janesville, Brian (Kim) Rasmussen of Fort Wayne, IN, her grandchildren, Joe Johnston, Aaron (Nicole) Sommers, Tressica McDowell and Nick Rasmussen, her great-grandchildren, Corey, Colton, Connor, Liam, Hannah, Quinn, Kiera, Ashton, Aiden, Ty, Allysa and Hope, her great-great-grandchild, Elliot and her niece Barbara Kuzinski (Rick) Hill. In addition to her husband and parents, she was preceded in death by her son, Terry Rasmussen, grandchild, Terry Sommers and brother, Bob Kuzinski.
The family wishes to express their sincere appreciation to the staff of Agrace HospiceCare for the kind and caring assistance given to Bette and her family.
Visitation will be from 11 a.m. until 12:30 p.m. Wednesday, January 20, 2016 at Peace Lutheran Church, 1550 South Osborne Avenue, Janesville with funeral services to follow at 12:30 p.m. Wednesday at the Church. The Rev. Richard W. Lehmann will officiate. Burial will be in Oak Hill Cemetery. Memorials may be made to the family or Agrace Hospice Care. The family is being assisted by Henke-Clarson Funeral Home (608-741-1713).
MOM, YOU'LL BE GONE BUT NOT FORGOTTEN, YOUR MEMORIES WILL LIVE WITHIN OUR HEARTS, YOU'LL WALK THE GOLDEN STREETS OF HEAVEN.