Betty J. Halbach
January 20, 1928 - January 12, 2012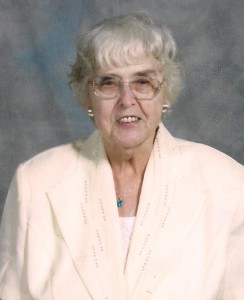 Betty J. Halbach, 83, of Janesville passed away Thursday, January 12, 2012 at her home. Betty was born January 20, 1928 in Detroit, MI, the daughter of Elmer and Elizabeth (Young) Tow. She graduated from Dominican High Academy in Detroit. She married Frederick W. Halbach on July 3, 1948. Betty was formerly employed as a teacher at St. Mary's School, Janesville then later worked at Fairbanks-Morse Company and the Janesville Janitorial Service. She later managed the Regency House Apartments in Janesville. She was a member of St. Mary Catholic Church, Milton.
Surviving are 4 sons and 3 daughters, William F. Halbach of Janesville, Susan (Terry) Mullen of Janesville, John C. (Sharon) Halbach of Warren, IN, James (Becky) Halbach of Hanover, David A. Halbach of Janesville, Mary Brown of Janesville, Cathy (Terry) Reinders of Janesville, 19 grandchildren and 24 great-grandchildren. She was preceded in death by her husband, Frederick Halbach on June 12, 1997. Her parents and her twin brother, William Tow also preceded her in death.
"A special thanks to Agrace HospiceCare and Senior Services of Rock County for their many kindnesses to Betty and her family."
A Mass of Christian Burial will be at 10:30 a.m. Friday, January 20, 2012 at St. Mary Catholic Church, Milton with Monsignor James Uppena presiding. Visitation will be at the church from 9:30 to 10:30 Friday. Burial will be in Mt. Olivet Cemetery, Janesville. Memorial may be made to Agrace HospiceCare. Assisting the family is Henke-Clarson Funeral Home. www.henkeclarson.com.