Betty Jane Scott
July 8, 1926 - October 21, 2011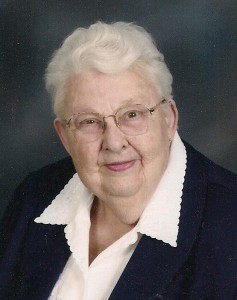 Betty Jane Scott, daughter of Elmer and Leda (Heggestad) Scott, 85, passed away peacefully in her home in Janesville, WI on October 21, 2011 surrounded by loved ones. She was born on July 8, 1926 in Rock County, WI. Betty was a wonderful caring daughter, sister, aunt and friend. She took care of many family members and neighbors over the years and will be remembered for her straight forward, honest and humble ways. Those who visited enjoyed a good game of cards and her wonderful cooking. Betty was a faithful member of First Lutheran Church, Janesville and had an unwavering faith in God. As her health declined, she reminded us all that we need to know Jesus and live, walk, trust and rest in Him. We cherish the memories of Betty's faithful love for everyone which was rooted in Jesus' faithful love of her. She participated in many church activities over the course of 60 years.
Betty is survived by sisters: Charlotte Anker of Appleton and Patricia Playter of Janesville, eleven nieces and nephews and a special friend, Kay Schultz. Betty is preceded in death by her parents, Elmer and Leda Scott, Leda's sister, Palma Heggestad who helped raise the children after Leda's death, brother Ronald and his wife, Liz Scott, brothers-in-law, Claire Anker and Donald Playter. In lieu of flowers, memorial donations can be made to First Lutheran Church, Adams School Breakfast Club or Agrace HospiceCare.
A memorial service for Betty will be held Saturday, November 12, 2011 at 11 a.m. at First Lutheran Church, 612 N. Randall Ave., Janesville. Rev. James Melvin will officiate. Friends may call at the church from 10 to 11 a.m. Saturday, Nov. 12th. Interment will be at a later date at Emerald Grove Cemetery.
A SPECIAL THANKS TO THE MICHAEL BERRY CANCER CLINIC FOR THE MANY YEARS OF WONDERFUL CARE TO BETTY.
Assisting the family is Henke-Clarson Funeral Home. www.henkeclarson.com.