Betty Knutson
December 14, 1938 - August 17, 2010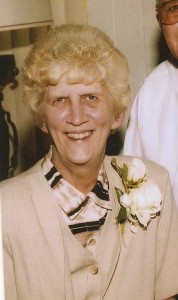 Betty Jean Knutson, 71, Janesville, WI, passed away at Mercy Hospital on Tuesday, Aug. 17, 2010, surrounded by her family. She was born on Dec. 14, 1938, in Mt. Sterling, WI, daughter of Harold and Anna (Olson) Brockway. She married Elling Knutson on May 9, 1959, in Mt. Sterling. He preceded her in death on Nov. 22, 2009. Betty was employed by McCain Foods (Moore Seafoods) for 33 years, where she served as chief union steward. She enjoyed watching the Packers and Brett Favre, no matter where he played. She also enjoyed playing euchre, scrabble, and taking her grandkids to her secret fishing spot. Her greatest joy in life was her many grandchildren and great-grandchildren. Betty was a member of First Lutheran Church.
Surviving are five children: David (Lori) Knutson, Steve (Shelley) Knutson, Jeff (Joanna) Knutson, Lisa (Roger) Rittenhouse, and Lori (Tom) Wilson; 20 grandchildren; nine great-grandchildren; her siblings: John Brockway, Sharon (Cleamour) Varo, Diane (George) Caya, Patty (Joe) Michalski, Phyllis (James) Argennia, and Bonnie (Joe) York; sisters-in-law, Donna Brockway and Norma Brockway; many brothers-in-law; sisters-in-law; nieces, nephews, cousins, friends, including her dear friends, Jeanie and Chuck Drays; and her beloved dog, Blackie. She was preceded in death by her husband of 50 years, Elling Knutson; her parents; brothers, Harold "Duffy" Brockway and Roland "Skippy" Brockway; sister, Eloda Everson; brothers-in-law: Arlen Knutson, Odell Knutson, Edwin Everson, and Calvin Messling; two nieces and three nephews.
Betty's family would like to thank Dr. Robinson and her staff, Mercy Hospice, especially Karen Bolden, Bright Star, especially her "girls", Christine and Dona for helping fulfill Betty and Elling's wishes of being able to stay at home.
Funeral services will be at 11 a.m. Saturday, Aug. 21, 2010, at FIRST LUTHERAN CHURCH, 612 N. Randall Avenue, Janesville. Pastor Naomi Garber will officiate. Entombment will be in Milton Lawns Memorial Park Mausoleum. Visitation will be from 4 until 7 p.m. Friday, Aug. 20, at HENKE-CLARSON FUNERAL HOME, 1010 N. Wright Rd., Janesville, and at the CHURCH on Saturday from 10 until 11 a.m. Assisting the family is Henke-Clarson Funeral Home (608-741-1713).