Blanch M. Wepking
August 23, 1917 - June 22, 2012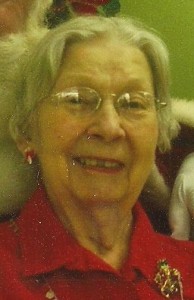 Blanch M. Wepking, 94, a long-time Janesville resident died Friday, June 22, 2012 at Mercy Hospital & Trauma Center. Blanch was born in Janesville on August 23, 1917 the daughter of Roy and Ilea (Hamil) Slyter. She graduated from Janesville High School. Blanch married Robert W. Wepking on October 4, 1952. She was employed for many years by Parker Pen Company from which she retired. Blanch was a member of Mt. Zion United Methodist Church and was long active in the Rebekah Lodge.
Surviving are one sister, Ruth Mair of Janesville, three nieces, one nephew, four great nieces and one great nephew. She was preceded in death by her husband, Robert Wepking on February 20, 2003. She was also preceded in death by her parents, two sisters, Elizabeth Koppleman, Esther Slyter, two brothers, John Slyter, Harvey Slyter, two brothers-in-law, George Koppleman Sr. and Robert Mair Sr.
Memorial contributions may be made in Blanch's name to ECHO, 65 South High Street, Janesville, WI 53548.
Funeral services will be at 12:30 p.m. Tuesday, June 26, 2012 at Henke-Clarson Funeral Home, 1010 N. Wright Rd., Janesville . Rev. Maribel Celiz will officiate. Burial will be in Oak Hill Cemetery. Visitation will be from 11 a.m. to 12:30 p.m. Tuesday at Henke-Clarson Funeral Home. www.henkeclarson.com.