Bob Dibble
February 1, 1945 - October 16, 2018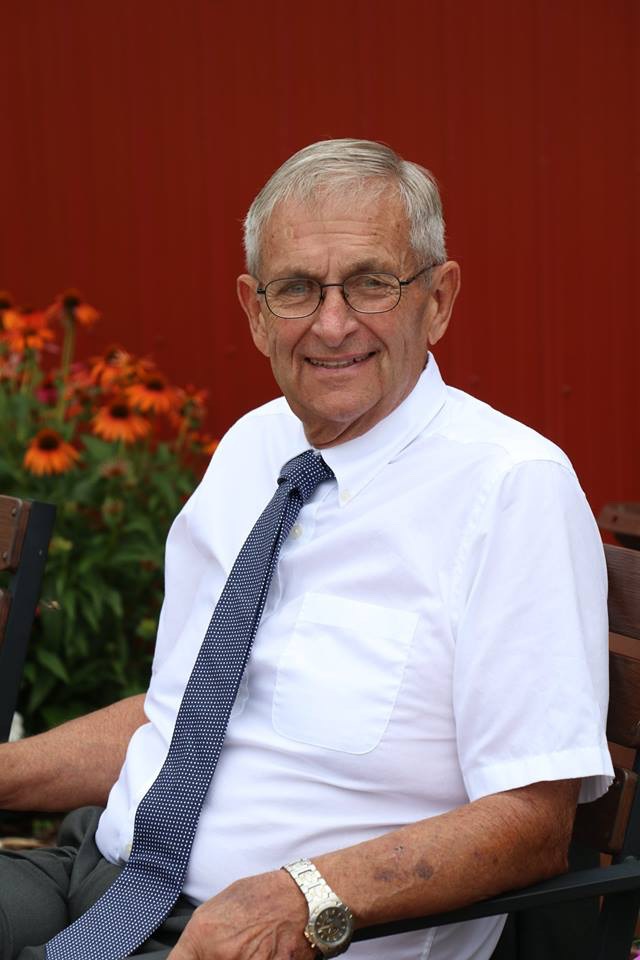 Bob Dibble, 73, Milton, adoring husband, loving father, proud grand-father and smitten great-grandfather has returned to his heavenly home on October 16th with his wife, and family by his side, after a three year battle with pancreatic cancer.

Although Bob didn't allow his spirit to be affected, his body began to surrender to this terrible illness in the beginning of October. Both he and Donna have since been constantly surrounded by their children, grandchildren and his siblings. During his final weeks he was able to have visits from his family, extended family, and many friends as they said their final goodbyes.

Bob was born in Oelwein, Iowa, where he lived on a farm with his parents, Fay and Collette Dibble, and his siblings, Earl, Janice, and Jim. He was a 1963 graduate from Jefferson High School in Independence, Iowa. It was in his high-school years that he met his sweetheart, Donna Huber. Ever the jokester that he was and wanting to get the attention of this beautiful woman, he threw a cherry bomb toward her house. Unfortunately, the cherry bomb rolled under the window where her father was sleeping. What a way to meet his future father-in-law, and make an impression on the family!

Bob and Donna were married on June 5th, 1965, in Janesville, Wisconsin. They lived in Independence, Iowa, where they started their family. After returning to Janesville in early 1971 Bob started driving for Janesville Auto Transport. JATCO was full of nepotism and everyone was like family. A monthly card club started in his early years at JATCO and they are still intact today. These JATCO drivers enjoyed catching up at the Evergreen/Longbranch and any other truck stop along the road. After retirement, he continued the tradition and met up with his buddies at the Milton Family Restaurant and The Squeeze Inn. It is no secret that Bob was very social and made friends with everyone he met, in every town he traveled. He has maintained these friendships to this day.

Early in their marriage, Bob and Donna loved to spend time camping with their children. They especially enjoyed boating with their families on the Mississippi River, where two of their children first learned to water ski. As their kids grew older, the Rock Aqua Jay water ski team became their second family. The couple worked in the background for many years as their four children performed and now several of their grandkids are keeping the tradition alive. Bob was a very encouraging grandfather as he loved to support his grandchildren in all of their events. He cherished the time that he was able to spend with them ice fishing, turkey hunting, deer hunting, and cheering on the Green Bay Packers.

Bob and Donna enjoyed traveling throughout the years where they have been able to take amazing trips with friends and family. They were able to take a dream vacation to Australia and New Zealand. They were also able to take a beautiful trip to the Hawaiian Islands this past March. When they weren't vacationing, they enjoyed visiting on the deck with their neighbors while watching the sunset over the lake. He was very dependable and relished any chance to help someone, whether he was building a retaining wall, helping someone move, or taking care of someone's yard work who was unable, Bob was always there!

Bob was a faithful member of St. Mary Church and the Knight's of Columbus in Milton where he was willing to volunteer any time it was needed.

Bob and Donna have been blessed with four children and twelve grandchildren who have been at his side helping with whatever needed to be done, including all fall preparation and a rogue BOG that floated up to their dock this last week! These past two weeks, they especially stepped forward helping to lift him, move him, feed him and they did it all with loving care and compassion. Bob had a special bond with each one of his grandchildren, they would each tell you that he played a significant role in who have they become. He had an especially aggravating "whistle" when he wanted their attention to pick up after themselves or to have them stop tipping back in a chair. Every one of the grandkids would give anything to hear that whistle from Grandpa one more time.

Bob is survived by his loving wife, Donna and children, Jon (Pam) Dibble, Janie (Rich) Woods, Jennifer Thomas and Joanie Kelley; his grandchildren, Ryan Roherty, Brett and Riley Dibble, Tristan, Trey and Leah Woods, Morgan and Brennan Casey-Schmidt, Jake and Joe Thomas and Jaden Kelley; his great-grandchildren Lexi Bowers and Ellie Jo Casey-Schmidt. In addition, he is survived by his brothers Earl (Judy) Dibble, Jim (Becky) Dibble, Roger (Kim) Hardman; his mother-in-law, Lois Huber; many brothers and sisters in-law, nieces and nephews, and a multitude of friends.

He will be met at the heavenly gates by his parents, Fay & Collette Dibble, his father-in-law, Gervis Huber, his sister, Janice Hardman, his brothers-in-law Bob Huber and Tom Tadder, and his son-in-law, Joe Thomas.

If you choose to send a memorial, in lieu of flowers, a donation to one of the following organizations would mean a great deal to the family: The UW-Carbone Center, who was able to give Bob three extra wonderful years; Agrace Hospice, who tended to him with the utmost care and respect in his final days; or the Rock Aqua Jays, who provided many years of friendship and entertainment for their family.

The Mass of Christian Burial for Bob will be held at 11 a.m. Monday, October 22nd, at St. Mary Catholic Church, 837 Parkview Dr., Milton, Wi 53563. Father David Timmerman will preside. Visitation will be from 2 to 5 p.m. Sunday October 21st at Henke-Clarson Funeral Home, 1010 N. Wright Rd., Janesville and at the Church on Monday from 10 to 11 a.m..