Boyd L. Hoskins
February 14, 1937 - April 29, 2012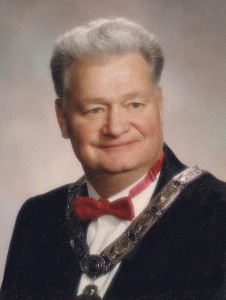 Boyd L. Hoskins, of Naples, FL, a former long-time Janesville resident passed away Sunday, April 29, 2012 at Avow Hospice in Naples. Boyd was born in Genoa City, WI on February 14, 1937, the son of Boyd S. "Mike"and Loretta (Moyer) Hoskins. He graduated from Janesville High School, Class of 1955 and attended the University of Wisconsin-Whitewater. He served in the U.S. Army from September 11, 1958 to September 10, 1961 as a member of the 82nd airborne division. Boyd married Annice Yvonne Schindler on December 22, 1960 in Winona, MN. Boyd and his wife owned and operated the Wedge Inn Restaurant in Janesville for many years. He is a Past Exalted Ruler of Janesville Elks Lodge # 254 in Janesville. Following retirement, Boyd and Annice moved to Naples, FL where he enjoyed working and playing golf at a local golf course. In addition to golf, Boyd enjoyed baseball.
Surviving are his wife of nearly 52 years, Annice, 5 children, Karla (Steven) Ritt, Kary (Jackie) Hoskins, Kenna Arvold, Kipp (Sharen) Hoskins, Kimberly (Jack) West, 12 grandchildren, 2 great-grandchildren, 1 sister, Karen Speer, several nieces, nephews and cousins. He was preceded in death by his parents, Boyd "Mike" and Loretta Hoskins.
Boyd's family would like to make a special thank you to NCH, Harbor Chase Nursing Home and Avow Hospice in Naples for all of your wonderful care. The family request that donations be made to Avow Hospice in Naples.
An Elks Service will be held at 1:00 p.m. Friday, May 4, 2012 at Henke-Clarson Funeral Home, 1010 N. Wright Rd., Janesville to be followed immediately by a funeral service officiated by Rev. Dr. Bruce A. Jones. Burial will be in Milton Lawns Memorial Park with military rites conducted by Kienow-Hilt V.F.W. Post # 1621. Visitation will be Friday from 11 a.m. until 1 p.m. at Henke-Clarson Funeral Home. www.henkeclarson.com.