Carolyn Ann "Nan" Busk Dennis
November 27, 1928 - December 5, 2015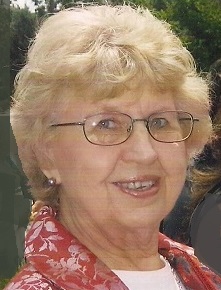 Carolyn Ann "Nan" Busk Dennis, 87 of Janesville passed away in her home on Dec 5th 2015. Nan was born at home in Afton WI, November 27, 1928 to the late William and Marion Rathbun Busk. On January 1, 1945 she married Max Dennis and was married for 61 years until his death on July 14, 2010.
She attended primary school in Afton and attended Janesville high school leaving after her Junior year and graduated from Lodi High School in 1946. Following high school she attended UW Stout and UW River Falls, majoring in home economics.
Nan did substitute teaching in the Janesville school system. She was a very active member of Cargill United Methodist Church, active in PTA, a Cub Scout den mother, a leader in Brownies and Girl Scouts, and a member of the Order of the Eastern Star.
She loved sewing, embroidering, knitting and gardening. But most important to Nan was her love of being a mother to her five children. They were the most important thing in her life.
She is survived by her five children, Craig (Kim) Dennis, Bruce (Elizabeth) Dennis, Amy (Audie) Brandenburg, Patricia McManus, Betsy (Troy) Lee, and 14 grandchildren, 19 great grandchildren, and 2 great-great grandchildren. Brother Robert (Betty) Busk, sisters Claire (George) Bailey, Jeanne Davies, Shirley Pollard and numerous nieces and nephews, good friends Jean Cook and sister-in-law Lena Ihle.
She is preceded in death by her husband Max, parents William and Marion Busk, sister Darlene (Busk) MacDonald, brother-in-laws, Larry MacDonald, Gradyn Davies, Ward Pollard and great grandson Landon James Lohuis.
Funeral services are at 11:30 am Friday, December 11, 2015 at Cargill United Methodist Church, 2000 Wesley Ave, Janesville, with visitation from 10:30 am Friday to the time of the service. The Rev. Susan Lockman will officiate. Interment will be in Oak Hill Cemetery. Assisting the family is Henke-Clarson Funeral Home, 608-741-1713.
The family would like to express their heartfelt appreciation to Beloit Regional Hospice and Riverside Terrace Assisted Living for their compassionate and loving care of Nan.
Memorial donations may be made to Cargill United Methodist Church in Carolyn "Nan" Dennis' name.