Conrad D. Schepp Jr.
June 4, 1931 - January 7, 2011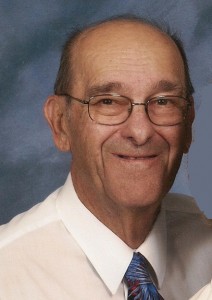 Conrad Daniel Schepp Jr., 79, of Janesville, WI passed away Friday, January 7, 2011 at Mercy Hospital with his loving wife and family at his side. Conrad was born June 4, 1931 at Beaver Dam, WI, the son of Conrad F. Schepp and Esther (Ebert) Schepp. He graduated from Baraboo High School in 1949 and attended UW-Madison. He married Anita Horstmann on May 2, 1953.in Rock Springs, WI. Conrad was employed for a time at the Badger Ordinance Works in Sauk County. He later worked in A.S.C.S. offices in Sauk County and Kewaunee County prior to coming to Janesville in 1964 where he was the office manager and later executive director of the Rock County A.S.C.S. Office. His employment with A.S.C.S. totaled 38 years when he retired on January 3, 1996
Conrad was an very active member of St. Matthew's Evangelical Lutheran Church where he was presently an elder and served on the church council. Conrad's other community activities included being a 4-H leader for 25 years and being a member of the Janesville Optimist Club since 1977 where he held many offices. He was also active in the A.S.C.S. Employee Association in both the state and national levels as well as the retirees group.
Surviving are his wife of over 57 years, Anita, 3 children, Gary Schepp of Ft. Wayne, IN, Danielle (Jeffrey) Reese of Wind Lake, WI, Deanna (John) Traver of Janesville, 7 grandchildren, Phillip Schepp, Bradley Reese, Gregory Reese, Eric Reese, Nathaniel Traver, Jared Traver, Mackenzie Traver, 1 sister, Belva (Irvin) Hess of Baraboo, WI, Roy (Lory) Schepp of Emporia, Virginia, Ben Schepp of Aurora, IL, numerous brothers-in-law and sisters-in-law, nieces and nephews. He was preceded in death by a daughter, Janean Schepp as well as his parents.
Conrad's family wishes to thank the staff of the Mercy Oncology Department and the Mercy Orthopedic Floor for their wonderful care.
Funeral services will be at 1:30 p.m. Tuesday, January 11, 2011 at St. Matthew's Evangelical Lutheran Church, 709 Milton Ave., Janesville with Pastor Mark Lindner and Vicar Joel Voss officiating. Private entombment will be in Milton Lawns Memorial Park Mausoleum. Visitation will be Monday, Jan. 10th from 4 to 6 p.m. at Henke-Clarson Funeral Home, 1010 N. Wright Rd., Janesville and at the Church on Tuesday from 12:30 p.m. until the time of the services. In lieu of flowers, memorials are preferred to St. Matthew's Lutheran School or Lakeside Lutheran High School. Assisting the Schepp family is Henke-Clarson Funeral Home. www.henkeclarson.com.