Daniel Robert Gosda
September 13, 1984 - March 25, 2014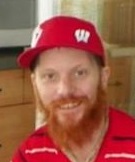 Daniel Robert Gosda, 29, of Janesville passed away at Mercy Hospital on Tuesday, March 25, 2014 from complications of a severe asthma attack. He was born on September 13, 1984 in Janesville, the son of Scott Sennett and Michelle Gosda. He attended Milton Schools and Blackhawk Technical College. Danny was an avid sports fan, he loved the Packers. He enjoyed skateboarding, riding bikes around town with Sarah and loved making music. He cherished the time he spent with his sisters and hanging out with his many friends. His optimism was contagious and he touched the life of everyone he met. Gone way too soon but in the end his kindness and generosity shined thru as an organ donor. He now lives on as he gives others a chance to extend their own lives. Daniel is survived by his mother, Michelle Gosda LaReau (B.C. Van Horn) of Milton, his father, Scott (Peg) Sennett of Lake Geneva, WI, 3 sisters, Hannah and Kirsten LaReau of Milton, Kathrine Wooddall of San Diego, CA, his best friend and the love of his life, Sarah Willborn of Janesville, his grandparents, Jerry and Barb Gosda of Janesville, Charles and Idalu Sennett of Florida, Pamela Haase of Janesville, great-grandparents, Robert and Barbara Gosda of Janesville as well as numerous aunts, uncles, cousins his dogs, Meiko and Princess and tortoise, Stone. He was preceded in death by his brother, Zach LaReau.
Services will be at 11 a.m. Tuesday, April 1, 2014 at Henke-Clarson Funeral Home, 1010 N. Wright Rd., Janesville with Father John Auby officiating. Visitations will be from 5 to 7 p.m. Monday, March 31st and from 10 to 11 a.m. Tuesday at Henke-Clarson Funeral Home. In lieu of flowers, please consider a memorial to the Asthmatic Foundation or to a pet rescue foundation of the donor's choice.
A SPECIAL THANK YOU TO THE DOCTORS AND NURSES AT MERCY HOSPITAL I.C.U. DEPARTMENT AS WELL AS TO CHAPLAIN NANCY FOR ALL OF THEIR CARING, KINDNESS AND SUPPORT GIVEN TO DAN AND HIS FAMILY. IT WILL NEVER BE FORGOTTEN.