Darwin A. "Jack" Gackstatter
January 31, 1939 - January 21, 2015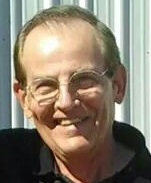 Darwin A. "Jack" Gackstatter, 75, of Janesville died Wednesday at St. Mary's Hospital in Madison. He was born in Janesville on January 31, 1939, the son of Edward and Beulah (Graves) Gackstatter. He graduated from Janesville High School and served in the U. S. Army from October 1, 1957 to September 30, 1960. He married Mildred Rodgers on December 6, 1959. Jack owned and operated Mini Market grocery stores in Janesville and Milton for many years. He was also associated with his wife in Millie's House of Gifts in Janesville, Milton and Wisconsin Dells. Following retirement, Jack has worked the past 10 years at Target. Jack enjoyed spending time with his family, sight seeing, watching National Football League games, making people laugh with his teasing and especially enjoyed casino date nights with the love of his life, Millie.
Jack is survived by his wife, Millie Gackstatter, three children, Pamela Sue (Leland) Millard of Janesville, Johnny Gackstatter of Portsmouth, Virginia, Michael (Phyllis) Gackstatter of Janesville, six, grandchildren, Amber Millard, Crystal (Mike) Wescott, Jewel Millard, Phillip Bothun, Amanda Bothun, Jenna Gackstatter, seven great-grandchildren and his brother, Roger (Nancy) Gackstatter of Janesville. In addition to his parents, he is preceded in death by his brother, Robert Gackstatter.
A memorial service will be at 1:30 p.m. Thursday, January 29, 2015 at Henke-Clarson Funeral Home, Janesville. Pastor Will Jewson will officiate. Burial with military rites by Kienow-Hilt V.F.W. Post # 1621 will be in Milton Lawns Memorial Park. Visitation will be from noon to 1:30 p.m. Thursday at Henke-Clarson Funeral Home.