David Fritz Homernik
August 30, 1954 - September 17, 2015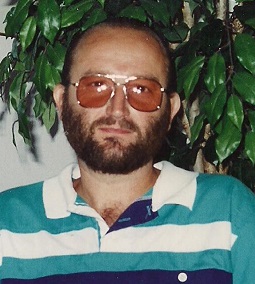 David Fritz Homernik, 61, of Janesville, WI passed away in the loving arms of Jesus at Agrace Hospice in Janesville on Thursday, September 17, 2015 after a short terminal illness. David was born on August 30, 1954 in Milwaukee, WI, the son of Alfred Fritz Homernik and Dorothy Jean Phillips. After his father's death when David was age 6 ½, the family moved to the Upper Peninsula of Michigan. After one year of high school in Michigan, he moved to Edgerton, WI where he graduated from Edgerton High School in 1974. After high school he worked for Helgeson Harvestore. In 1977, he began work at Schweiger Industries in Jefferson, WI and finished his employment at Stoughton Trailers, Stoughton, WI in April, 2015.
David married Sharon Lunde Onsgard on June 21, 1980, in a beautiful country setting at the Ronald Range farm in Fulton Township, with Pastor Phil Borleske officiating. David later told Sharon that the best thing he ever did in his whole life was marrying her and having the opportunity to love and raise Cheri, whom he thought of as his own daughter. David told Sharon every day that she was the love of his life. He was preceded in death by his father, Alfred; his mother, Dorothy; his sister, Betty Lee Klitzke; a baby sister, Janet Marie; and his favorite uncle George Hamernik. He is survived by his loving wife of 35 years, Sharon, his daughter, Cheri Votaw (Tim); one aunt, Issy Wirhanowicz of Milwaukee, WI, his brothers Guy Homernik of Janesville, Bob Homernik of Denver, CO, Charley Homernik of Farmington, NM and Tim Homernik of Dixon, ME and numerous nieces, nephews and cousins.
David was an outdoor enthusiast, loved nature and animals, camping, hiking, hunting and fishing and spent many happy hours with family and friends doing these favorite things. Everyone who spent these times with David commented on how fun loving and outgoing he was. He was extremely proud of his Native American heritage which is Cherokee and Nez Perce, with his great great grandmother having walked the Trail of Tears. David and Sharon met on the dance floor here in Janesville and continued their love for dancing throughout their 35 years of marriage. They were avid followers of their favorite rock band, the Go Deans (doctors and employees from Dean Clinic, Janesville) and went to most of their engagements. David was a member of Good Shepherd Lutheran Church, at one time serving on the church council. He wore his faith on his sleeve, and as others who knew him personally stated, " he is the most selfless individual they have ever met, always putting others before himself." Because of this he was a blessing to all who knew and loved him and will forever be missed in this life but loved now and forever to come.
A Celebration of Life service will be held at Good Shepherd Lutheran Church, 700 N. Wright Rd, Janesville on Sunday, September 27, 2015 with Pastor Steve Ekblad officiating. Visitation will be held at 3 p.m. with the service beginning at 4 p.m. with luncheon to follow. In lieu of flowers, memorials may be made in David's name to Good Shepherd Lutheran Church. Henke-Clarson Funeral Home is assisting the family. (608-741-1713).