David Jon Hovorka
September 11, 1957 - October 13, 2011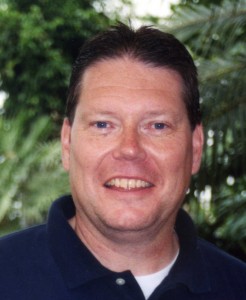 David Jon Hovorka – 54, passed away October 13th, 2011 at the Hospice of the Western Reserve in Cleveland, Ohio.
Born September 11, 1957 in Madison, Wisconsin, the eldest son of Harold and Carol (Noyes) Hovorka,
David grew up in Madison, attending Orchard Ridge Elementary School, and graduating from James Madison Memorial High School in 1975. After High School, David attended Ricks College in Rexburg, Idaho. He then went on to serve a two year mission for the Church of Jesus Christ of Latter-day Saints in the Germany-Austria Croatian Mission. David was a dedicated missionary and developed a talent for languages. He became fluent in both German and Serbo-Croatian and dabbled in Russian.
Upon his return from Europe he met his wife Thia and it was love at first sight. They were sealed for time and all eternity in the Manti Temple, Manti Utah – August 14th, 1979.
Throughout his adult life, David enjoyed all sports, especially playing basketball with his sons, riding his motorcycle and working with the youth – in the community and in his church, but above all things he realized his greatest joy as a husband and father. David loved time spent with his family, whether it was the annual father – son cycle ride, camping, hiking, visiting the beach or just listening to music. He had a knack for naming that tune with only 1 or 2 notes. He was a gentle and loving husband, father, son, brother, uncle and friend.
David brought joy and laughter to all that he met with his unique sense of humor and unabashed zest for life. He was fearless.
David spent nearly 30 years in the Biotech and Pharmaceutical industries. The past eight years he was employed by Ben Venue Laboratories in Bedford, Ohio, as the Aseptic Filling Supervisor and Manufacturing – Technical Specialist.
He is survived by his wife of 32 years, Cynthia (Thia) Chesmore and daughter, Milana; sons, David Jon II, Merik, Brendan, Ian and Shawn (Allison) Fisher, his father Harold (Barbara), sister, Lisa (Thomas) Torkelson, brother, Timothy, (Angie) and mother-in-law Josephine Chesmore, grandchildren Brayden and Kyla, along with 14 nieces and 22 nephews. He is preceded in death by his mother Carol.
Funeral services will be held at 1:00 pm on Saturday, October 22nd at the Church of Jesus Christ of Latter Days Saints, 4505 Regent Street, Madison, WI. Visitation will be from Noon to 12:45 p.m. Saturday at the Church.
A private graveside service will be held at Bethel Cemetery, Center Township, Wisconsin. In lieu of flowers, please make donations in Memory of David Hovorka to the American Brain Tumor Association. Donations can be made by: 1) Mail, American Brain Tumor Association 8550 W. Bryn Mawr Ave., Ste 550 Chicago, IL 60631 2) Phone 800-886-2282  3) Online via the Website

www.abta.org
. "I have fought a good fight, I have finished my course, I have kept the faith:" (2 Timothy 4:7)
The family would like to extend a special thank you to David's co-workers, especially Trish. Your love and concern lifted his spirits many times. David you will forever be in our hearts….until we meet again.

Henke-Clarson Funeral Home, Janesville, WI is assisting the family.

www.henkeclarson.com
.