Deloris M. Nickels
March 16, 1923 - December 8, 2010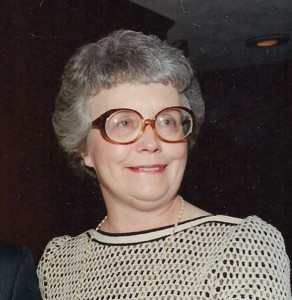 Deloris M. Nickels, 87, of Janesville, WI passed away Wednesday, December 8, 2010 at St. Elizabeth Manor in Footville, WI. She was born on March 16, 1923 in Shawano, WI, the daughter of William and Alma (Erdman) Gruetzmacher. Deloris grew up in Green Bay. She worked as a secretary for Channel Five Television there until her marriage to Jesse L. Nickels on February 23, 1957. Thru Mr. Nickels work, the family resided in Illinois, Ohio, California and New Jersey. They moved to Janesville following his retirement in 1983.
Surviving are 2 daughters, Martha (Ray) Adamick of Fort Mitchell, KY, Mary (Steve) Hesse of Janesville, a step-son, J. Scott Nickels of Phoenix, AZ, 4 grandchildren, Jeff and Emily Hesse, John and Marie Adamick, 2 sisters, Mary Ann Jacobson of Green Bay, Jean (George) Clarke of Janesville, various nieces, nephews and her former daughter-in-law, Wendy Nickels of Roselle, IL. She was preceded in death by her husband, Jesse, on September 5, 2001. Her parents also preceded her in death.
An open house to honor the memory of Deloris Nickels will be held from 2 to 6 p.m.
Saturday, December 11, 2010 at the home of her daughter and son-in-law, Mary and Steve Hesse, 801 Alpine Drive, Janesville. In lieu of flowers, memorials are preferred to St. Elizabeth Manor or the Rock County Humane Society. Henke-Clarson Funeral Home. www.henkeclarson.com.