Donald A. Wachlin
November 5, 1925 - October 19, 2012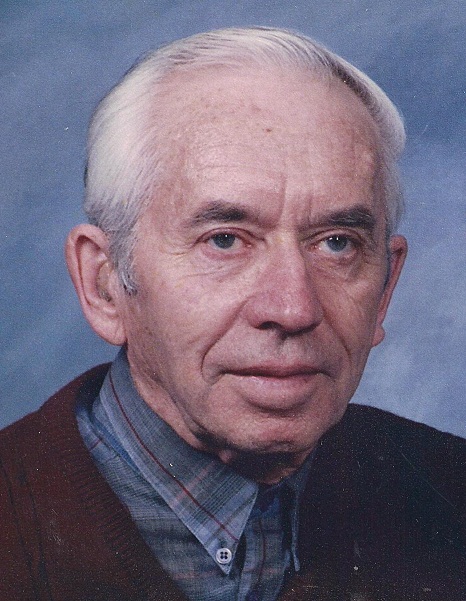 Donald A. Wachlin, 86, of Janesville, WI died Friday afternoon, October 19, 2012 at Cedar View Health Center. He was born on November 5, 1925 and was the son of Herman and Artie (Attlesey) Wachlin. He grew up on a farm in Porter Township, Rock County and attended Edgerton High School. Donald entered the U. S. Army on April 5, 1945 and was discharged on December 30, 1946. He married Shirley Schumacher on April 7, 1951. He was employed by his cousin, Tom Goodger as a carpenter for several years until going to work at General Motors where he was employed for 30 years until retiring in April of 1981. Donald was a proud member of U. A.W. Local # 95. He was a member of St. Peter's Lutheran Church and the Mercy Hospital Auxiliary. Donald enjoyed working at the Wilson School Breakfast Club. The Wachlin's resided on the Rock River for 17 years and Donald was especially fond of his time there watching and feeding all of the animals and birds. He also enjoyed traveling with Shirley around the United States, along with their trips to Canada, Alaska and Israel as well as their fishing trips to Hayward, WI.
"A special thank you to the nurses, aids and staff of Cedar Crest for their compassionate care."
Donald is survived by his wife of 61 years, Shirley Wachlin, special cousins, Betty and Jerry Earlywine, his sister-in-law, Diane Crompton, his nieces, Rae Ann Galloway, Paula Crompton, Sue Huber,Patti Raufman and his nephew, Michael Crompton. He was preceded in death by his parents.
Visitation will be Tuesday, October 23, 2012 from 9:30 to 10:30 a.m. at St. Peter's Lutheran Church, 1422 Center Avenue, Janesville. Funeral services will be at 10:30 a.m. Tuesday at St. Peter's Lutheran Church with Pastor Bruce Gray officiating. Following a luncheon at the church, burial services will be in Milton Lawns Memorial Park at 1:30 p.m. Tuesday. Memorials may be made in Donald's name to the Cedar Crest Foundation or St. Peter's Lutheran Church Memorial fund. The family is being assisted by Henke-Clarson Funeral Home.