Donald C. Homan
October 17, 1924 - January 19, 2018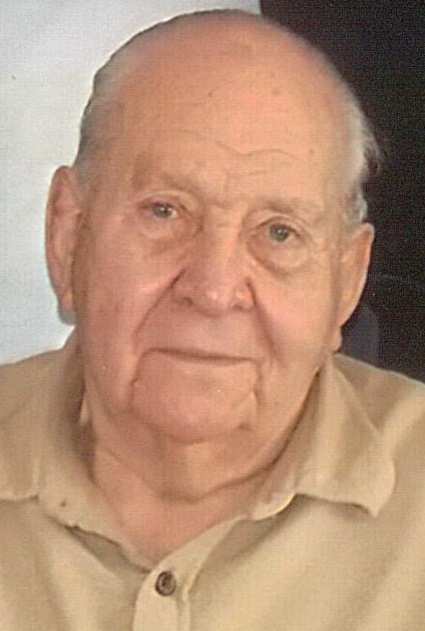 Donald C. Homan, age 93, of Janesville passed away Friday, January 19, 2018 at Mercyhealth Hospital & Trauma Center. He was born in Janesville on October 17, 1924, the son of Carl and Ruth (Rehfeld) Homan. He attended Janesville High School but was drafted into the U. S. Navy while he was in the 11th grade. He served aboard the U.S.S. Wichita from 1943 to 1946. When he returned home Kenneth Bick, the principal of Janesville High School presented him with his diploma. While in the service, he received 1 Purple Heart, 2 silver stars, 7 bronze stars and numerous campaign metals for his service in the South Pacific theater. Donald married the love of his life, Lorraine A. Fredendall on September 11, 1948 and they were together for 69 ½ years. Prior to entering the service, Don worked at the Janesville Woolen Mills and the Janesville Cotton Company and upon his return worked at Gilman Engineering, then at the Fisher Body Division of General Motors retiring from General Motors.
Surviving are his wife, Lorraine Homan, their children, Cheryl (John) Langer, Janet (Todd) Lawrence, Nancy Lentz, David (Sandra) Homan; grandchildren, Jared (Loretta) Holcomb, Bill (Mcelle) Holcomb, Jason (Michele) Holcomb, Amber (Andrew) Schoonover, Andrew (Stacie) Lentz, Kaitlin Lentz, Amy (Jamie) Homan, Carl (Shelby) Homan, Shawn (Heidi) Lawrence, Colleen Emmery; 27 great-grandchildren, 10 great-great-grandchildren and his sister, Lucille R. Homan. He was preceded in death by his parents, great-grandson, Nickholas Henschel, mother-in-law, Florence Fredendall and son-in-law, Richard L. Lentz.
Don had a great love for life and made friends everywhere he went. He enjoyed making beautiful pieces of custom wood work. He enjoyed going up north fishing at the cabin for many years. For over 40 years he enjoyed camping with Lorraine in their large travel trailer. This past year, they enjoyed every weekend away from April until October. They belonged to "Wisconsin on Wheels" for 40 years. He also enjoyed his time at the Homan Tree Farm and Nursery. Don was baptized at St. Paul's Lutheran Church but was a life-long member of First Christian Church Disciples of Christ.
Visitation will be from 12:30 to 2:00 p.m. Monday, January 22, 2018 at First Christian Church Disciples of Christ, 1909 Highland Avenue, Janesville with funeral services to follow at 2:00 p.m. Monday at the Church. Pastor Dee Ann Woods will officiate. Military rites by Kienow-Hilt V.F.W. Post # 1621 will follow the service at the church. Private burial will be in Oak Hill Cemetery. In lieu of flowers, memorials may be made to First Christian Church Disciples of Christ or to the charity of the donor's choice. The family is being assisted by Henke-Clarson Funeral Home.