Donald E. Gregerson
March 13, 1934 - November 18, 2011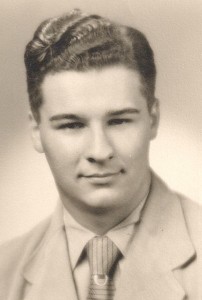 Donald Earl Gregerson, 77, of Janesville, WI died Friday, November 18, 2011 at Mercy Hospital & Trauma Center. He was born in Bemidji, MN on March 13, 1934, the son of Hjalmar and Josephine (Lausche) Gregerson of Pennington, MN. He graduated from Blackduck MN High School in 1953. Donald married Mary Morger on August 29, 1959. He was retired from General Motors where he worked for over 40 years. He enjoyed collecting duck decoys and was interested in woodworking, guns and cars.
Donald is survived by his three children, Matthew (Ruth) Gregerson of Gladstone, MO and Janesville, Glen (Connie) Gregerson of Evansville, WI, Dawn (Jim Grigsby) Perez of Janesville, six grandchildren, Zachary and Joseph Gregerson of Janesville, Nicholas and Mary Gregerson of Evansville, Anthony Attlesey and Vincent Perez both of Janesville, sisters, Rosemary (Wesley) Valtinson and Sharon (Raymond) Knight both of Minnesota, numerous nieces, nephews and extended family members. He was preceded in death by his parents.
A Mass of Christian Burial will be at 11 a.m. Friday, November 25, 2011 at St. Mary's Catholic Church, 313 East Wall Street, Janesville with Father Stephen Umhoefer presiding. Burial will be in Oak Hill Cemetery. Visitation will be at St. Mary's Church on Friday from 10 a.m. until 11 a.m. The family is being assisted by Henke-Clarson Funeral Home. www.henkeclarson.com.