Donald G. Duoss
July 10, 1919 - September 5, 2012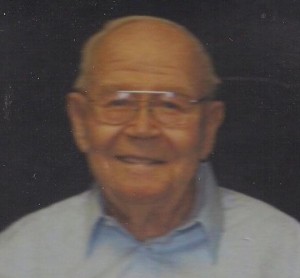 Donald G. Duoss, 93, of Janesville passed away Wednesday, September 5, 2012 at Huntington Place Memory Care. Affectionately called "Kopp" by many of his family and friends, Donald was born on the home farm in Bradford Township on July 10, 1919, the son of Andrew and Anna (Paulson) Duoss. He attended grade school in Emerald Grove and graduated from Janesville High School in 1937. As a youth, Donald was active in 4-H. He married Rosemary Beeten on July 24, 1945. She preceded him in death in June of 1988. Donald farmed on the family farm in Bradford Township all of his life. He was a long-time member and former trustee of the Emerald Grove Congregational Church . He had been a director of the Clinton Co-op, a member of the Farm Bureau, the Pure Milk Association and active in the National Farmers Organization. In May of 1975, Donald graduated from the Law Enforcement Academy at Blackhawk Technical College and served as a police officer for the village of Clinton and Turtle Township. He was a former member of the Rock County Drainage Board and past president of the Emerald Grove Cemetery Association. Donald was a member of Sons of Norway Nordland Lodge #544 where he was active in the Nordland Choir and a member of the Golden "K" Kiwanis Club.
Surviving are three children, Ann Duoss, Andrew (Vicky) Duoss and Donna K. ( David) Hahn all of Janesville, four grandchildren, Derek (Lasonda) Hahn, Micheal (Paula) Hahn, Kelsey (Chet) Steinhagen, Danielle (Matt) Christensen, two great-grandchildren, Ryan Hahn and Owen Hahn, nieces and nephews. In addition to his wife and parents, he was preceded in death by three sisters, Clara Rye, Esther Hall, Isabel Myers and one brother, Stanley Duoss.
Visitation will be from 4 to 7 p.m. Friday, September 7, 2012 at Henke-Clarson Funeral Home, 1010 N. Wright Rd., Janesville and at Emerald Grove Congregational Church on Saturday, September 8th from 10 to 11 a.m. Funeral services will be at 11 a.m. Saturday at Emerald Grove Congregational Church with Rev. William Weiss officiating. Private interment will be at a later date in Emerald Grove Cemetery. Memorials may be made to the Emerald Grove Congregational Church. The family is being assisted by Henke-Clarson Funeral Home. www.henkeclarson.com.