Donald L. Granlund
July 7, 1925 - March 1, 2012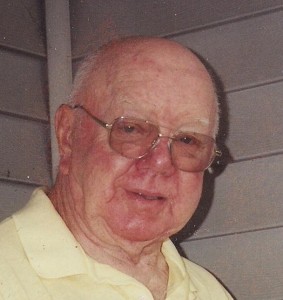 Donald L. Granlund, 86, of Janesville, WI died at his home on Thursday, March 1, 2012 following a lengthy illness. He was born on July 7, 1925 in Blair, WI, the son of Palmer and Agnes (Johnson) Granlund. He grew up in Blair where he attended Blair High School. He served in the U.S. Army from December 13, 1943 to April 27, 1946. While in the army, he served as jeep driver for actor Dale Robertson at Mr. Robertson's request. Donald married Dona Cooper on September 9, 1947. He had been a Janesville resident since 1953 and was employed by General Motors for over 38 years. While he worked at General Motors, Donald also worked full-time for over 20 years for H. P. Goodall Distributors. He was a member of U.A.W. Local # 95 and the American Legion. Donald loved driving his Buick automobiles which he always kept shined up to the hilt. He was well known for calling everyone either, young lady or young man to brighten their day. A highlight of his life was when Donald flew to California to be on the "This Is Your Life" television program to appear with Dale Robertson.
Surviving are two sons, Richard (Nancy) Granlund and Dale (Cheryl) Granlund both of Janesville, three grandchildren, Regina (Nick) Holmberg, Adrianne (Sean Kusak) Granlund, Wade (Tarryn Wiemer) Granlund, three great grandchildren, Cooper and Hayden Holmberg, Braxton Granlund, one sister, Lois Koenig of Madison, one sister in law, Lillian Cooper of Beloit, nieces and nephews. He was preceded in death by his wife, Dona on February 10, 2002. He was also preceded in death by his daughter, Dawn Granlund, his parents and two sisters, Cleo and Orphie.
Visitation will be from 2 to 4 p.m. Sunday, March 4, 2012 at Henke-Clarson Funeral Home, 1010 N. Wright Rd., Janesville. Funeral services will be at 11 a.m. Wednesday, March 7, 2012 at Zion Lutheran Church, Blair, WI with visitation there from 10 to 11 a.m. Wednesday. Burial will be in the church cemetery with military graveside rites. The family is being assisted by Henke-Clarson Funeral Home, Janesville, www.henkeclarson.com and Jack Funeral Home, Blair, WI.