Donald Lee Downing
May 19, 1931 - May 5, 2012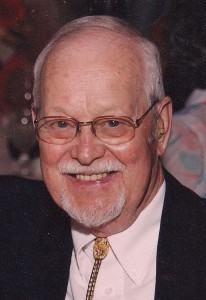 Donald Lee Downing, 80, of Janesville, WI passed away Saturday, May 5, 2012 at Nazareth House in Stoughton, WI. He was born on May 19, 1931 in Ontario, Vernon County, WI, the son of Ernest and Anna (Cornell) Downing. He served in the U. S. Army from 1951 to 1953 and was stationed for a year in England. Donald married Margaret Stoikes on July 19, 1952 in Ontario. After moving to Janesville he and his wife owned and operated a donut shop in Janesville for 71/2 years. In 1966, Don graduated from Blackhawk Technical College with a degree in law enforcement. He was employed as a deputy sheriff by the Rock County Sheriff's Department from 1966 to 1986. Don was a member of Janesville Masonic Lodge # 55, the AARP, NRA, National Wild Turkey Federation and the American Legion. He enjoyed hunting, fishing, coffee clutching, trap shooting and above all being with his family.
Surviving are his wife, Margaret, 3 children, Jeffery (Lucille) Downing of Reedsburg, WI, Staryl (Michael) Hanson of Janesville, Kimberly (Kenneth) Baschleben of Janesville, 6 grandchildren, Amber Downing, Kyle Hanson, Stephanie (Chris) Bankes, Cody Hanson, Ryan (Lauren) Downing, Zachary Downing, 1 great-granddaughter, Natalie Bankes, 1 brother, Charles (Dolores) Downing of Janesville. In addition to his parents, Don was preceded in death by 2 brothers, Harry Downing and Harold Downing.
Visitation will be from 4 to 6 p.m. Wednesday, May 9, 2012 at Henke-Clarson Funeral Home, 1010 N. Wright Rd., Janesville with services at 6 p.m. followed immediately by Masonic Services. Graveside services will be at 1 p.m. Thursday, May 10th at Hilltop Rest Cemetery, Ontario, WI. Rev. Bruce Milleman will officiate. Military rites will be performed by the Ontario American Legion Post. www.henkeclarson.com.