Donna J. "Nanie" Atkinson
October 23, 1932 - October 6,, 2014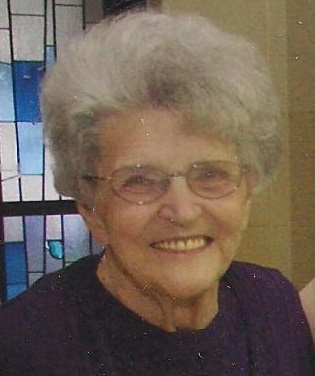 Donna J. "Nanie" Atkinson, 81, of Beloit, WI passed away Monday, October 6, 2014 at St. Mary's Hospital in Madison. Donna was born in Janesville Township on October 23, 1932, the daughter of Harold and Viola (Risch) Bobzien. She was a graduate of Janesville High School. Donna married William D. Atkinson on August 23, 1952. He preceded her in death August 2, 2008. In addition to assisting with the family farming business, Donna was employed for over 25 years by Alden Meadow Park Nursing Home in Clinton. She was a member of St. John Lutheran Church, Janesville. Nanie will be fondly remembered for her love of cooking, in particular Christmas cookies, puzzles, gardening and being an avid reader. Most of all Nanie will be remembered
for her love and care she had for her family. Donna is survived by seven children, Dan (Sharon Batchelor) Atkinson of Beloit, Julie (Steve) Betz of St. Anne, IL, Suzanne Britsch of West Bend, WI, Robert (Carol) Atkinson of Beloit, Beth (Greg) Welsh of Edgerton, WI, Alan ( Tana) Atkinson of Beloit, David (Gaea) Atkinson of Janesville, a son-in-law, Scot Krebs of Beloit, 21 grandchildren and 11 great-grandchildren. In addition to her husband and parents, she was preceded in death by two brothers, Richard and Kenneth Bobzien, a son-in-law, Jeffery Britsch and a daughter-in-law, Barbara Atkinson.
Visitation will be from 11 a.m. until 1 p.m. Friday, October 10, 2014 at St. John Lutheran Church, 302 N. Parker Drive, Janesville followed by funeral services at 1 p.m. Friday at the Church. Pastor Bond Haldeman will officiate. Burial will be in Shopiere Cemetery. The Atkinson family is being assisted by Henke-Clarson Funeral Home, Janesville.