Donna Linde Layer
September 23, 1929 - October 19, 2010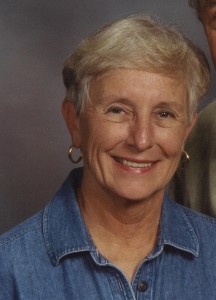 LAYER, DONNA LINDE
Donna Linde Layer, 81, of Janesville, WI passed away peacefully at her home on Tuesday, October 19, 2010. Donna was born in Evanston, IL on September 23, 1929, the daughter of Nils and Rachel Linde. She graduated from New Trier High School and attended Western College for Women and the University of Illinois. Donna married William "Bud" Layer on June 16, 1951. They resided in Mt. Prospect, IL and Crystal Lake, IL prior to moving to Janesville, her final resting place. A beautiful, kind, gracious, mother of seven, grandmother of nineteen and great-grand mother of three. Donna had a beautiful voice and sung in church and community choirs. She had been a member of the Service League of Crystal Lake, IL. She was an active P.E.O. member and loved the sisterhood. Her children were the center of her life and include, Karen (Greg) Nelson, John (Peggy) Layer, Jeryl (Frank) Alford, Jeff (Lisa) Layer, Jim (Lesli) Layer, Meg (Tim) Coughlin and Bill (Masa) Layer.
Her grandchildren include Jeff, Peter and Carly Nelson, Jenny Leavitt, Kelly Miller, Andrew Layer and Natalie Mayhew, Tom Alford, Amy Cooper, Michael and Rebecca Layer, Annie and Meggie Layer, Joe, Scott, Ryan and Tom Coughlin, James and Nadia Layer, and great-grandchildren, Linde Nelson, Jack Alford and Nolan Mayhew. She is preceded in death by her son, Dr.John Layer, sister, Jeryl Linde Mentzer, mother, Rachel H. Linde and father, Nils P. Linde.
Donna struggled for many years with a degenerative disease living each day to the fullest. Never a complaint, she was a pillar of strength to the family. We love her and we will miss her.
Funeral services will be at 1 p.m. Friday, October 22, 2010 at Luther Valley Church, 7107 South Luther Valley Road, Beloit, WI 53511 . Pastor Mary Froiland will officiate. Visitation will be from 11 a.m. until 1 p.m. Friday at the church. Interment will be in the Luther Valley Cemetery. A celebration reception will be held from 1 to 4 p.m. Saturday, October 23rd at Crystal Lake Country Club, Crystal Lake, IL. Remembrances may be sent to Hospice Care, Inc. 3001 W. Memorial Drive, Janesville, WI 53548 or Luther Valley Church. Assisting the Layer family is Henke-Clarson Funeral Home, Janesville. www.henkeclarson.com