Doris Ann Ovans
August 2, 1933 - December 21, 2014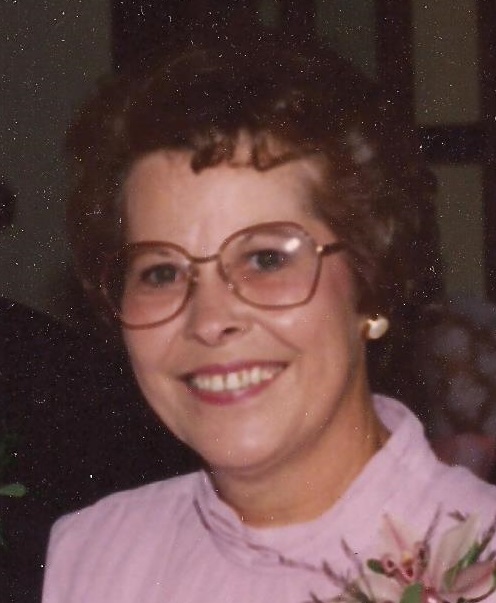 Doris Ann Ovans, 81, of Janesville, WI passed away Sunday, December 21, 2014 at Cedar Crest Health Center. Doris was born on August 2, 1933 in Chelsea, WI, the daughter of Lester and Rose (Reinke) Leischer. She graduated in 1951 from the Westboro, WI High School. On December 13, 1952, she married David E. Ovans in Prentice, WI. Doris was employed as a cashier at Bishop's Cafeteria in the Janesville Mall for a number of years, otherwise was proud to be a homemaker. She loved canning and cooking as well as spending time with and cheering on her grandchildren and family in their various activities. She was an avid camper and a long-time member of the Janesville Family Campers. After David retired, they enjoyed traveling the world and spending winters in Florida. Doris was a long-time active member of First Baptist Church in Janesville where she formerly taught Sunday School and was active as a volunteer, especially with Meals on Wheels.
Doris is survived by her husband, David Ovans of Janesville, three children, Ron (Mary) Ovans of Webster, MN, Bruce Ovans of Tampa, FL, Judy (Chuck) Murphy of Winnetka, IL, five grandchildren, Ingrid (Jason) Peterson, Justin Ovans, Maureen (Travis) Beckerle, Connor Murphy, Ragen Murphy, three great-grandchildren, Hunter Peterson, Brianne Peterson, Ira Beckerle and her brother, Mervel Leischer.. She was preceded in death by her parents, Lester and Rose Leischer, her brother, Bethel Leischer, her sister, Darlene (Leischer) Wegerer and daughter-in-law, Olivia Ovans.
A memorial service will be at 2 p.m. Sunday, December 28, 2014 at First Baptist Church, 3414 Woodhall Drive, Janesville with Pastor Jerry Amstutz officiating. Visitation will be from 12:30 to 2:00 p.m. Sunday at First Baptist Church. The family is being assisted by Henke-Clarson Funeral Home.