Doris J. Pierce
June 20, 1926 - January 29, 2012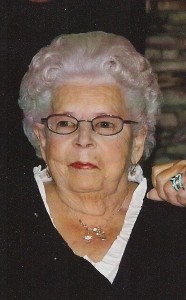 Doris J. Pierce, 85, a former long-time Janesville resident died Sunday, January 29, 2012 at Evansville Manor where she had resided the past several years. Doris was born in Janesville on June 20, 1926, the daughter of Herman and Viola (Seeman) Perleberg. She attended Janesville schools. She married Gerald G. Pierce on August 25, 1944. She was a homemaker and worked at Borg's in Delavan for several years. Doris was a life member of the D.A.V. and enjoyed playing cards.
Surviving are 3 children, Vicki (Kenneth) Bartz of Blanchardville, Valerie (David) Heider of Janesville, Timothy (Janet) Pierce, 9 grandchildren, Keefe (Patty) Bartz, Trena (Steve) Pazynski, Gerald (Dawn) Heider, Holly (friend-Randy) Heider, Corey (Shinar Fugate) Heider, Tiffany (Travis) Sheldon, Mathew (friend-Jennifer) Pierce, Lindsey (Brandon) Heath, Domini Pierce, 11 great-grandchildren and 1 great-great-grandchild. Doris was preceded in death by her husband, Gerald on February 7, 2005. Also preceding her in death are her parents, her sister and brother-in-law, Evelyn and Clare "Bud" Jones.
"A special thank you to Evansville Manor and Agrace HospiceCare for the wonderful care they gave our mother"
Funeral services will be at 11 a.m. Thursday, February 2, 2012 at Henke-Clarson Funeral Home, 1010 N. Wright Rd., Janesville with Chaplain David Brynelson officiating. Burial will be in Oak Hill Cemetery. Visitation will be from 10 to 11 a.m. Thursday at Henke-Clarson Funeral Home. www.henkeclarson.com.