Doris M. Peterson
April 12, 1925 - November 6, 2010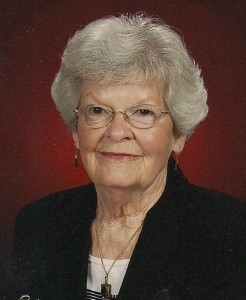 Doris Marie Peterson, 85, of Janesville, WI passed away on Saturday, November 6, 2010 at Mercy Hospital following a brief illness. Doris was born in La Grange, WI on April 12, 1925, the daughter of Gordon and Marion Garlock Saunders. She married Donald Belk and later married Paul Hecht who died on June 15, 1989. She married Lawrence Peterson December 29, 1989 and he preceded her in death on June 11, 2004. Doris was employed in the banking industry for many years starting out at First National Bank (Chase Bank) in Janesville. She also worked in banks in California, Las Vegas, NV and prior to retiring as a bank training officer in Tampa, FL. While married to Lawrence Peterson, they were resident managers of the Willard Haus Apartments in Janesville for several years. Doris was a member of St. Paul's Evangelical Lutheran Church where she was an active volunteer and a member of the quilting group. She also was a member of the Knitting Grandma's thru Mercy Hospital Volunteers. In addition to all of her volunteer activities, Doris loved shopping and spending time with her family..
Doris Peterson is survived by her son, Ron (Cathy) Belk of Orfordville, a daughter-in-law, Patty Belk, 7 grandchildren, Toni Anderson (Brad), Jon Belk (Amy), Andy Belk (Machelle), Chad Cleasby (Amy), Angie Cooper (friend Brent) Holly Kubiac (Ted Anderson), Stephanie Benz (Casey), 19 great-grandchildren, a niece, Carol Phillips (George), a nephew, Gordon Dresdow (Charlotte). In addition to her husbands and parents, she was preceded in death by a son, Roger Belk, a sister, Jean Dresdow and a brother-in-law, Stanley Dresdow.
Services will be at 11 a.m. Friday, November 12, 2010 at St. Paul's Evangelical Lutheran Church , 210 South Ringold Street, Janesville. Visitation will be at the Church on Friday for one hour prior to the services. Private entombment will be in Milton Lawns Memorial Park Mausoleum. Memorials may be made to St. Paul's Lutheran Church School in Doris' name. Assisting the family is Henke-Clarson Funeral Home. www.henkeclarson.com.