Dorothy A. Rogers
April 30, 1924 - October 14, 2014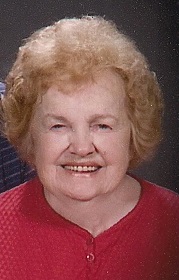 Dorothy A. Rogers, 90, of Janesville passed away peacefully on Tuesday, October 14, 2014 at St. Elizabeth Nursing Home surrounded by her family. She was born on April 30, 1924 in Edgerton, the daughter of James and Alice (Hudson) Haggerty. She graduated from Edgerton High School. Dorothy married Clifford J. "Eddy" Rogers on April 28, 1962. She was a homemaker who enjoyed cooking and baking. She enjoyed her family, especially her children and grandchildren. One of the great joys that they all will remember is that each year each of them received from Dorothy and Eddy a card with a two dollar bill in at each birthday and holiday. Another of Dorothy's joys in life was her church, St. John Lutheran where she was a longtime member.
Dorothy is survived by her husband, Clifford "Eddy", 4 children, Mary (Joe) Daniel of Fayetteville, Georgia, Rae Ellyn (Bob) Schirmer of Little River SC, Jeffrey (Carmen) Rogers of Libertyville, IL, Ginger (John) Warrix of Reynoldsburg, Ohio, 13 grand-children, 16 great-grandchildren and 1 brother, James (Caroline) Haggerty as well as nieces, nephews and cousins. She was preceded in death by 1 daughter, Judy Zalesky, her parents and 5 sisters, Viola, Betty, Evelyn, Norma and Marilyn "Joanne".
Visitation will be from 4 to 6 p.m. Friday, October 17, 2014 at Henke-Clarson Funeral Home, 1010 N. Wright Rd., Janesville. Funeral services will be at 10:30 a.m. Saturday. Oct. 18th at St. John Lutheran Church, 302 N. Parker Drive with Pastor Bond Haldeman officiating. Entombment will follow in Milton Lawns Memorial Park Mausoleum. Henke-Clarson Funeral Home is assisting the family.