Dorothy Carlson
December 13, 1932 - March 5, 2018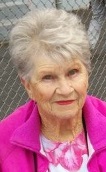 Dorothy Carlson, age 85, of Janesville, WI passed away at her winter home in Green Valley, AZ on March 5, 2018 surrounded by her husband and her daughter, Carol. Dorothy was born in Janesville on December 13, 1932 to William and Margaret (Klaus) Henning. She was raised by her foster parents, William and Elizabeth Warner whom she loved and who loved her as their own. She graduated from Janesville High School in 1951. On June 18, 1955 she married Roger L. Carlson at St. John's Lutheran Church in Janesville. They were blessed with four children, nine grandchildren and one great-grandchild. Dorothy started working as a switchboard operator at the telephone company at the age of 16. She retired as a telecommunications representative after 36 years of service after holding numerous positions. She retired in 1985 to take care of her first grandchild. When she was a young girl she loved to camp at Devil's Lake with the Warner family, water ski, ice skate and was quite a tomboy.
Dorothy was a gifted self-taught musician who loved to play the organ and accordion. In 1974 she put in a swimming pool and taught all nine of her grandchildren to swim. That pool brought her many years of joy, celebrating birthdays, anniversaries, graduations and numerous other occasions. Throughout the years she loved watching her sons sporting events, making her daughters clothes, family times at Lake Ripley, crafting (her creations brought joy to many people), trips to the casino and spending time with Roger attending parties and enjoying times with friends in Wisconsin and Arizona.
She will be sadly missed by her husband, Roger, her children: Carol Davidson of Port Washington, WI, Linda Carlson of Janesville, Alan (Kim) Carlson of Madison, WI and Brian Carlson of Janesville, nine grandchildren: Lindsey and Tyler Davidson, Hannah and Alaina (Jr. Coleman) Carlson, Mary and Sara Weir, Colten, Ben and Aden Carlson, one great-grandson, Aceyn. Her friend and brother-in-law Howard Carlson, special friends Linda Hoium and Beverly Blazer and many nieces and nephews. She was predeceased by her parents and foster parents, her mother-in-law and father-in-law, siblings: Jack, Mildred, Lucille, Eleanor, Charlotte and Evelyn.
All services will be held at Henke-Clarson Funeral Home, 1010 N. Wright Road, Janesville on Saturday, April 28, 2018. Visitation will be from 11 a.m. until 12 Noon with funeral services to follow at 12 Noon with burial immediately following at Milton Lawns Memorial Park. There will be a luncheon and Celebration of Life held at Time Out Pub and Grill following the burial.