Dr. Richard Herbert "Dick" Allen M.D.
August 4, 1926 - April 22, 2018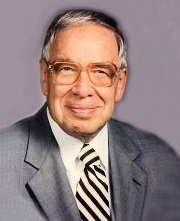 Dr. Richard Herbert "Dick" Allen M.D. of Battle Creek, Michigan, age 91, left to be with our Lord on April 22, 2018. As he passed peacefully, he was surrounded by his children who loved him dearly.
Dick was extremely fond of his hometown Janesville, Wisconsin where he was born on August 4, 1926 to Herbert William and Helen (Taylor) Allen. Upon graduating from Janesville High School in 1944, he enlisted in the U.S. Navy's V-12 program – a program designed to identify and train people for needed roles within the Navy during WWII. A Phi Beta Kappa in pre-med studies through the V-12 program at Dartmouth College, Dick completed his undergraduate studies in just three years and ultimately received his medical degree from Harvard University in 1950. Returning to the Midwest after graduation, he interned and then served the first two years of his orthopedic residency at Henry Ford Hospital in Detroit before returning to active duty with the U.S. Navy. From 1952-1953, Dick served aboard the U.S.S. Battleship New Jersey as Lieutenant Senior Grade during the Korean War Conflict and completed his service in 1954 at the Naval Hospital in Portsmouth, VA. At the end of his duty, he returned to Henry Ford to complete his residency. It was there he met the love of his life, Patricia Warner, who served as an operating room nurse at the hospital. They were married in October 1955 and moved from Detroit to Battle Creek the following year.
Dick practiced medicine as an orthopedic surgeon with College Street Orthopedics for 38-years in Battle Creek. After his retirement in 1994, he remained an orthopedic consultant to the Occupational Health Clinic at Battle Creek Health System until 1998. When in active practice, Dick was certified by the American Board of Orthopedic Surgery, became an active member of numerous state and national orthopedic societies, was a past president of the Michigan Orthopedic Society, and served as a consultant to the V.A. Hospital at Fort Custer. He helped found the Southwest Michigan Rehabilitation Hospital, was president and is a current board member of its foundation. He was selected as one of the first trustees of Leila Y. Post Montgomery Hospital and later served on the committee that recommended consolidation of Leila and Community Hospitals in Battle Creek. At the time of his retirement from full-time practice, Dick was senior staff and, ultimately, granted emeritus staff status by Battle Creek Health System. He was inducted into the Bronson Battle Creek Physicians Hall-of-Fame in 2013.
Dick was a member of the First Congregational Church and, as a long-time member of Battle Creek Country Club, could be found most Wednesdays playing his favorite sport of golf. He absolutely loved boating and his fondest moments were spent vacationing summers on Glen Lake – traversing the Fisher Lakes to visit Seaburgers, eating at the Bluebird in Leland or the Friendly in Empire, walking the beach at Port Oneida, riding the old dune buggies on the Sleeping Bear, buying the morning paper at Rader's or visiting the Arbor Light in Glen Arbor. He was particularly proud of his ownership in the Green Bay Packers and spent most Sundays in the fall rooting on his favorite football team! Above all else, Dick cherished the time he spent with family, friends, colleagues and caregivers and was extremely grateful for those that visited him in recent days and weeks.
Dick was preceded in death by his parents Herbert and Helen Allen and his beloved wife of 59+ years, Patricia. He is survived by his daughter Elizabeth (William) Weber of Union Grove, Wisconsin and sons Douglas Allen of Battle Creek and David (Julie) Allen of Three Rivers, Michigan as well as his sister-in-law Janet Foote, numerous nieces, nephews and grandchildren (Kate Weber, Taylor Allen, Dana Allen, Ashleigh Boersema, Casey Allen, Kristin Whitworth and Bailey Jones).
Friends will be received 5:00 – 8:00 p.m. this Thursday, April 26, 2018 at the Farley Estes Dowdle Funeral Home & Cremation Care. Funeral services will be officiated by Reverend Thomas J. Ott at 2:00 p.m. on Friday, April 27, 2018 at the First Congregational Church in Battle Creek. Committal, military honors and interment will be held at 11 a.m. on Monday, April 30, 2018 at Oak Hill Cemetery in Janesville, WI on his family's plot and next to his beloved wife, Patricia.
Memorial contributions in memory of Dr. Richard Herbert Allen may be made to the Southwest Michigan Rehab Foundation, P.O. Box 2050, Battle Creek, MI 49016.
Arrangements in Battle Creek are by Farley Estes Dowdle Funeral Home & Cremation Care. Arrangements in Janesville, WI are by Henke-Clarson Funeral Home. Personal messages for the family may be placed here at www.farleyestesdowdle.com or at henkeclarson.com.