Duane G. Arnold
April 22, 1928 - February 19, 2017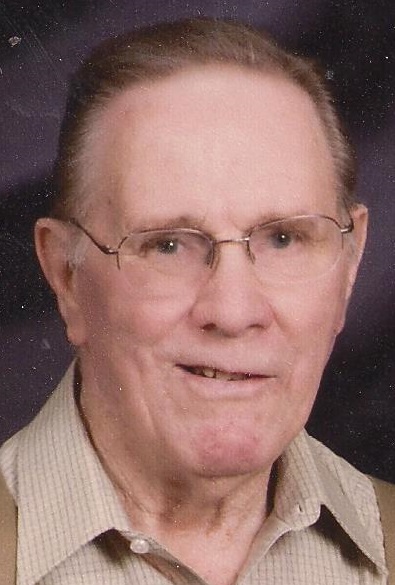 Duane G. Arnold of Edgerton, WI died peacefully Sunday morning, February 19, 2017 at the Edgerton Care Center with his family by his side. He was born April 22, 1928 to Harry and Grace (Hudson) Arnold at the Arnold homestead farm near Milton, WI on Newville Road. He lived there until 1990 when the farm was sold and a new home was built two miles from there on Merrifield Road. He attended the Oakdale one room school and graduated from Milton Union High School in 1946. Most of his life he farmed and had dairy cows. He also had both a can and bulk milk route. After that he went to work at Dorsey Trailer retiring from there when they closed. On June 25, 1949 Duane married Shirley Gray and they had three daughters, Lynn Wuolle (Ralph Bessel), Brenda Roberts of Janesville and Vicki Arnold of Sundance, WY. Later he married Elsie (Fulk) Thompson which gave him two daughters and a son, Norma Thompson of Milton, Mary (Randy) Wolff of Janesville and Jim (Joan) Thompson of Edgerton. He is survived by his wife, Elsie and his children , 11 grandchildren, Jassica (Cory) Callahan, Stacie (Jason Higgins) Roberts, Shawna Wuolle, Grant (Emma) Wolff, Cody (Abbey) Wolff, Richard (Sarah) Wolff all of Janesville, Brian (Megan) Wolff of Clinton, Thad (Amy) Wuolle of Stoddard, WI, Adam (Jessie) Waite of Black River Falls, Karl (Molly) Thompson of Milton and Renah Thompson of Kalispell, MT. He is also survived by 14 great-grandchildren, Trey, Brody, Melanie, Leah, Leora, Lucy, Bowen, Orion, Cassidy, Rhian, Dawson, Emma, Kinsley and Aliyah, a brother-in-law, Howard (Earlene) Sebastian of Clay City, IN, also nieces, nephews and other relatives and friends. He was preceded in death by his parents, two brothers, Floyd (Betty) Arnold and Charlie (Ruth) Arnold, two sisters, Eva (Ray) Robertson and Myra (Irv) Myklejord and a great-grandson, Max Charles Wolff.
Family was everything to Duane, camping, vacations around the country with them, picnics, reunions and most every grandchild got to learn to drive the John Deere garden tractor. He certainly will be missed by all of us, but our memories will be great. He was a member of Edgerton Congregational Church and served as a trustee.
Services will be held at 2 p.m. Friday, February 24, 2017 at Henke-Clarson Funeral Home, 1010 N. Wright Rd., Janesville. Rev. Lora Whitten will officiate. Burial will be in Milton East Cemetery. Visitation will be from 1 to 2 p.m. Friday at Henke-Clarson Funeral Home.(608-741-1713).
The family would like to thank Rev. Lora Whitten and the Edgerton UCC Church for their caring and prayers; also Swifthaven Assisted Living, the Edgerton Care Center and Agrace Hospice for all of their care.
A Limb Has Fallen
A limb has fallen from our tree; I keep hearing a voice that says …
Grieve not for me. Remember the best times, the laughter, the song. The good life I lived while I was strong. Continue my heritage, I'm counting on you. Keep smiling and surely the sun will shine through.
My mind is at ease, my soul is at rest,
Remembering all, how I truly was blessed.
Continue the traditions, no matter how small, Go on with your life,
don't just stare at the wall. I miss you all dearly,
so keep up your chin. Until the day comes we're together again.