Elaine B. Sessler
April 4, 1926 -March 14, 2012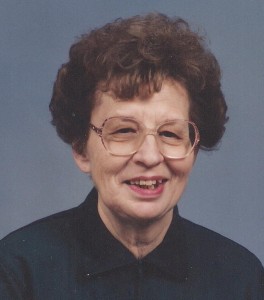 Elaine B. Sessler, 85, of Janesville, WI passed away at St. Mary's Janesville Hospital on Wednesday, March 14, 2012. Elaine was born in Lima Center, WI on April 4, 1926, the daughter of Wallace and Martha (Pantel) Kutz. She graduated from Whitewater High School. Prior to her marriage, Elaine was employed by Parker Pen Company for several years. On July 1, 1949, she married Jacob Sessler. She had resided in Janesville since 1953. She was a member of the Wednesday Women's Golf League at Blackhawk Golf Course for many years and was active in various bowling leagues throughout the years. Elaine was formerly a volunteer in the Mercy Hospital surgery waiting room. She was a long-time member of St. Matthew's Evangelical Lutheran Church where she was very involved for the church in the Meals On Wheels program. Elaine loved to square dance and enjoyed traveling.
Surviving are two daughter, Gail Sessler of Flossmoor, IL, Donna R. Hirth of Janesville two sisters, Phyllis Dabson of Beloit, Janice Beaubien of Arlington Heights, IL, her sister-in-law, Ilah Sessler of Janesville. She is further survived by her A.F.S. daughter, Sandy Diaz of Quito, Ecuador. She was preceded in death by her husband, Jacob Sessler in January of 1991. She was also preceded in death by one daughter, Wendy Jo Sessler, her parents and her son-in-law, Michael G. Hirth.
Funeral services will be on Monday, March 19, 2012 at 1:00 p.m. at St. Matthew's Evangelical Lutheran Church, 709 Milton Avenue, Janesville. Pastor Mark Lindner will officiate. Burial will be in Milton Lawns Memorial Park. Visitation will be Sunday, March 18th from 2 to 4 p.m. at Henke-Clarson Funeral Home, 1010 N. Wright Rd., Janesville and at St. Matthew's Church on Monday from Noon to 1 p.m. Memorials will be used to purchase a memorial brick in Mrs. Sessler's name at Rotary Gardens. Anyone wishing to correspond with the family may do so by contacting Gail Sessler, 1158 Baythorne Drive, Flossmoor, IL 60422. Assisting the family is Henke-Clarson Funeral Home. www.henkeclarson.com.