Elaine H. Pierson
April 10, 1926 - November 20, 2010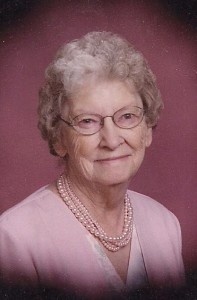 Elaine H. Pierson, 84, of Janesville passed away Saturday, Nov. 20, 2010 at Evansville Manor. Elaine was born April 10, 1926 in Janesville, the daughter of Walter and Helen (Markins) Jaeger. She married Raymond Pierson on February 17, 1959. Mrs. Pierson was a homemaker and also worked in the Janesville area.
Surviving are 5 children, Jeannette (Carl) Angilello, Linda Sturdevant, Robert Kaufman, Mary "Smell" (Victor) Lundeberg, Kay (Wayne) Kersten all of Janesville, 14 grandchildren, 25 great-grandchildren, 2 great-great-grandchildren, 4 siblings, Lois (Bob) Altmann, Don Jaeger, Annette (Richard) Cahill, Dorothy (Robert) Suter along with several nieces and nephews. Elaine was preceded in death by her husband, her parents, 2 children, Rae Marie Zittlow and Jim Pierson as well as a sister, Ruth Jaeger.
Services will be at 1 p.m. Tuesday, November 30, 2010 at Henke-Clarson Funeral Home, 1010 N. Wright Rd., Janesville with Pastor Josh Brumbaugh officiating. Visitation will be for one hour prior to the services on Tuesday. Burial will be in Oak Hill Cemetery. Assisting with the arrangements is Henke-Clarson Funeral Home. www.henkeclarson.com.