Ernest E. Spry
June 9, 1918 - December 10, 2012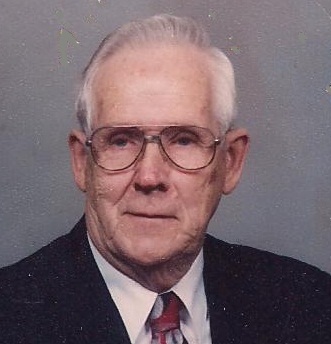 Ernest E. Spry, 94, of Janesville passed away on Monday, December 10, 2012 at Cedar Crest Health Center with his loving wife of 63 years, Dorothy, by his side. Ernest was born on June 9, 1918 in Janesville, the son of Frank and Dora (Eales) Spry. He attended Dillenbeck Grade School and graduated from Janesville High School. Ernie began working at Parker Pen Company in July of 1936. He entered the U. S. Army on August 4, 1941 and served in European Theater during World War II. Upon his discharge on December 5, 1945, he returned to work at Parker Pen Company where he was employed until retiring in 1981. At the time of his retirement he was number one on the Parker Pen seniority list. Ernie married Dorothy A. Russell on June 25, 1949 at First Lutheran Church, Janesville. He was a member of First Lutheran Church and Kienow-Hilt V.F.W. Post # 1621. He was long active in Janesville bowling leagues, having bowled on the Parker Pen bowling teams at Franklin Gardens for many years. Ernie also golfed for many years on Parker Pen golf teams and continued to enjoy golfing during his retirement. He also enjoyed the many golfing and fishing trips he took with Dorothy and "the gang".
Surviving are his wife, Dorothy Spry, daughter, Susan Spry of Centennial, CO, grandchildren, Elizabeth Rooney and Ethan Rooney, brothers, Raymond (Betty) Spry, Donald (Phyllis) Spry, Howard (Judie) Spry, Norbert Spry all of Janesville, a sister, Mildred (Robert) Jordan of Waukesha, nieces, nephews numerous other relatives and friends. He was preceded in death by his parents, Frank and Dora Spry, an infant son, Jeffrey Allen Spry, brothers, Everett Spry and Stanley Spry, sisters, Elva Blackstone and Phyllis Conaway, several brothers-in-law and sisters-in-law as well as many dear friends.
Funeral services will be at 11.a.m. Friday, December 14, 2012 at First Lutheran Church, 612 N. Randall Avenue, Janesville with Pastor Naomi Garber officiating. Visitation will be from 10 to 11 a.m. Friday at the church. Burial will be in Milton Lawns Memorial Park with military rites by Kienow-Hilt V.F.W. Post # 1621. Memorials may be made to the American Red Cross or First Lutheran Church. The family is being assisted Henke-Clarson Funeral Home.