Faye Eloise (Lovesee) Twist
August 31 ,1921 - June 22, 2012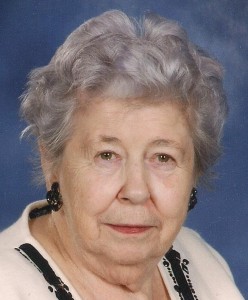 Faye Eloise (Lovesee) Twist, 90, passed away Friday, June 22, 2012, at her Milton Senior Living home. Born August 31, 1921 to Paul R. Lovesee and Minnie Pohl Lovesee in Emerald Grove, WI, she was baptized at the Congregational Church of Emerald Grove, taught Sunday School and held board positions at the First Baptist Church of Clinton, attended the Grace Bible Church of Beloit, and most recently Bethel Baptist Church of Janesville.
Obtaining the skills to live frugally having been raised on a farm during the Depression, Faye sewed her family's clothing, grew tremendous gardens, and canned their produce. Graduating from Clinton High School, she refused a full scholarship to Milton College, so that she could marry Ernest Leroy Twist on November 23, 1940 at the Little Brown Church in Nashua, IA. After Ernie's tour of duty as a Navy Seabee during WWII, they farmed 40 acres on Philhower Road, north of Beloit.
Prioritizing her life according to God's Word, Faye's fiercest wish was that all her family members would accept the Lord as their Savior, so they would join her in Heaven when their time came. She loved her family unconditionally and supported them in every endeavor, attending as many of her grandchildren's basketball games, choir concerts, horse shows, and sewing competitions as she possibly could, supporting her prized cherubs with ear-piercing shrieks at moments that she deemed to be appropriate. Faye also cared deeply about her many dogs and farm animals, particularly her mule George. Never one to sit still, Faye would keep her hands busy – gardening, baking, crocheting, working a needlepoint canvas or knitting, braiding rugs, and refinishing furniture. Her family members treasure the magnificent hand-made gifts that were her labors of love.
Faye generously gave time, skills, and monetary donations to her church, charities and community organizations. She, taught sewing and cooking techniques to 4-H kids, was a member of the Rock County 4-H Fair Board and was past president of the Rock County Homemakers. She taught and was superintendent of Sunday School and served on many church committees, was a 4-H leader, superintendent of the 4-H Fair on sewing and dog projects, and served on the Rock County 4-H Fair Board. She served as Vice-President of the Rock County Rural Band Parents, President of the County Homemaker's Group, and was an active member of the Turtle Grange, Beloit Area Women's Christian Club, Shopiere Garden Club, and Outlook Club.
Faye was preceded in death by her husband Ernie in January, 1978, and is survived by her daughter Sandra (Charles) Kohls of Janesville and son Lee (Sheryl) Twist of Milton; grandchildren Susan (Rick) Wilcox of Wisconsin Dells, Daniel (Amy) Kohls of Fitchburg, Timothy (Elisabeth) Kohls of Wauwatosa, Jennifer (Jake) Dunnum of Prairie du Sac, Beth (Mike) Figi of Monroe, Laura (Darren) Lynd of Clinton and Robert (Krista) Twist of Milton; 14 great-grandchildren (Leeza, Sophie, Cassie, Katie, Timo, Ally, Cora Faye, Nick, Benjamin, Julia, Austin, Natalee, Gavin, and Hannah); a niece Nancy Smith of Wyoming and Nancy's daughters Tiffany Haynes and Shanna Tohill. Faye also sponsored numerous African children's educational endeavors [through the church].
In lieu of flowers, memorial gifts should be made to Bethel Baptist Church. Funeral services will be held at 4pm, Sunday, June 24 at Bethel Baptist Church, 3300 Mt. Zion Avenue, Janesville. Rev George Kalb will officiate. Private burial will be in Turtleville Cemetery. Visitation will be 3-4 pm Sunday at the church, Henke-Clarson Funeral Home is assisting the family. www.henkeclarson.com.