Floyd G. Lind
March 6, 1930 - February 6, 2012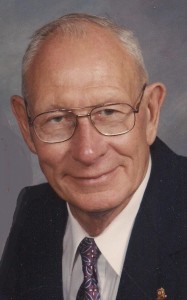 Floyd G. Lind, 81, of Janesville passed away peacefully on Monday, February 6, 2012 at the Peter and Ellen Johnson Agrace HospiceCare in Fitchburg of congestive heart failure. He was born on March 6, 1930 to Floyd H. P. Lind and Carrie (Gage) Lind in the Town of Hiilsboro, Vernon County, WI. He received his education at Hillsboro area schools. Floyd was a veteran of the United States Army serving in the Korean War. He married Mary Ann Clawson on July 16, 1955 at the Dell Evangelical United Brethren Church. Floyd was employed by the Schlueter Company in Janesville as a welder until retiring in 1995. Floyd was an active member of Cargill United Methodist Church having served as an usher. He was a former active member of Mt. Zion United Methodist Church. He was a life member of Kienow-Hilt V.F.W. Post # 1621. Floyd enjoyed gardening, traveling, wood craft work, fishing and watching birds.
He is survived by the love of his life, his wife, Mary Ann, nephews, Robert Lind, Charles (Rebecca) Lind, David (Kim)Lind, nieces, Margaret Liska, Betty Clark, Sharon Schwarz, Linda( Terry) Gunder, Irene (James) Subera, Jan Lind, other relatives and friends. He was preceded in death by his parents, brothers, Harold and Charles, sisters-in-law, Bessie and Libbie Lind, nieces, Mary Filter and Alice Jensen, brothers-in-law Orland Clawson and Ivan Clawson.
"The family would like to extend their gratitude to the caregivers of Agrace Hospice for making the past months more comfortable for Floyd."
Funeral services will be held at 12 Noon Friday, February 10, 2012 at Cargill United Methodist Church, 2000 Wesley Avenue, Janesville with Rev. Barbara Wells officiating. Visitation will be from 11 a.m. until Noon Friday at Cargill Church. Military honors will follow the services by Kienow-Hilt V.F.W. Post # 1621. Graveside services will be at 11 a.m. Monday, Feb. 13th at Dell Cemetery, Vernon County, WI. Memorials may be made to Cargill United Methodist Church, the American Heart Association or Agrace HospiceCare. Assisting the family is Henke-Clarson Funeral Home. www.henkeclarson.com.