Frances L. Beaudette
August 15, 1918 - April 25, 2012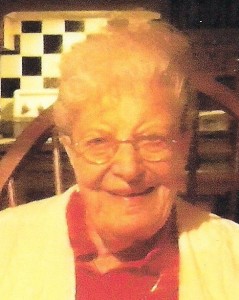 Frances L. Beaudette, 93, of Janesville passed away on Wednesday, April 25, 2012 at Cedar Crest. She was born August 15, 1918 in Madison, WI, the daughter of Joseph and Sebastianna (Tusa) Montalto. She grew up in the Greenbush area of Madison where she helped in the family grocery store. Frances worked at Red Dot for many years as well as in the housekeeping department at Madison General Hospital. She had a great love for people and for Italian food. Frances lived and befriended many people at Golden Acres in Janesville where she resided for 24 years.
Frances is survived by two sons, Richard (Cynthia) McFarland of Arcadia, WI, Robert (Linda) Beaudette of Madison, one daughter, Roberta (Orville) Homburg of Janesville 13 grandchildren, 11 great-grandchildren, three sisters, Mary (Stanley) Hinze , Rosie (John) Peterson and Carmella (William) Conroy all of Madison. She was preceded in death by her late husband, Robert Beaudette, two children, Harry McFarland and Beverly McFarland as well as three brothers, Paul Montalto, Sam Montalto and Joseph Montalto.
Frances family wishes to give a special thanks for all of the love and support that was given during her stay at Our House Assisted Living and by the staff of Cedar Crest.
"Mom, thanks for all of the love and guidance you gave to your family. We will miss you, now you can rest in peace and be with all of the loved ones you missed"
A Mass of Christian Burial will be held at 10:30 a.m. Tuesday, May 1, 2012 at St. Mary's Catholic Church, Janesville, with Father Stephen Umhoefer presiding. The family will meet friends following the services in the church's fellowship hall where a lunch will be served. The family is being assisted by Henke-Clarson Funeral Home. www.henkecalrson.com.