Fred Albert Wallmuth
August 23, 1921 - June 21, 2014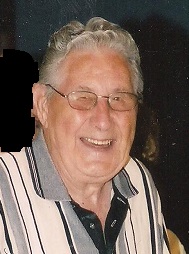 Fred Albert Wallmuth went home to be with the Lord on June 21, 2014, surrounded by his family and friends. He was born to Lillian and Fred Wallmuth on August 23, 1921. He began welding prior to enlisting in the United States Army. He was a T-5 corporal with the 1281st Engineers and proudly served in World War II in Germany, France, and the Philippines. He married his first wife Praxeda in 1946. They had a daughter, Barbara, and were married 29 years before Praxeda passed in 1974. He began work at General Motors in 1956 building automobiles. He worked on cars out of the home he shared with his second wife, Florence, who he married December 19, 1976. He never stopped having a love for automobiles. He retired from GM in 1985 and began pursuing a second love of traveling and dancing. He and Florence would travel all across the states in their RV attending various Polka conventions with friends. He and Florence were both a regular fixture at their favorite restaurant, Eagle Inn. Fred was a quiet, strong man who loved his family. He was a great father, grandfather, and friend to many people. He was known by his unique laugh, which brought a smile to many.
Fred was preceded in death by his parents, Lillian and Fred Wallmuth, his siblings, Mildred, Laura, Alice, Ruth, Harold, and George Wallmuth, as well as his first wife, Praxeda "Blondie" Wallmuth and son-in-law, Pete Kinley. He is survived by his second wife, Florence, his children Barbara Kinley, Tracy Puntney, Leta (Terry) Phernetton, Wayne Puntney, Curt (Sue) Puntney, and Carolee (James) McCalmont; his nephew, Bert Brookins, and niece, Marie Kinley; 34 grandchildren and great grandchildren, Ryan (Denise and Keegan, Keltyn) Puntney, Kristen (Aaron and Emilee) Aeschlimann, Kari (Matt and MacKenzie, Jacob, Sydney) Ohms, Lukas (Jennifer and Gavin, Aiden, Gillyan, Catriona) McCalmont, Thea (Kurt Eckes) Puntney, Alisa (Brodie and Juliana) Evans, Chad Puntney, Wade (Kelly and Lana, Ethan) Puntney, Cara (Tony and Celia Mae) Dean, and Craig (Christina Norcia) Puntney; and among many friends, Terri and Eric Wille, Advi Shabani, and the Eagle Inn family. A special thank you to the doctors, nurses, and staff at St. Mary's Hospital, Rock Haven, and Davita Clinic for the many years of wonderful care and support.
A memorial service will be held at 1:00 p.m. Tuesday, July 1, 2014 at Roxbury Church of Christ, 2103 Roxbury Road, Janesville, WI with Pastor Mark Grindle officiating. Visitation will be at the church on Tuesday from 12 Noon until the service time. Burial of Fred's cremains with military graveside rites will be at 1:00 p.m. Monday, July 7, 2014 at St. Stanislaus Cemetery in the Township of Arcadia, WI. Henke-Clarson Funeral Home, Janesville is assisting there family.