Fred Vernon "Fritz" Moore
May 11, 1926 - December 5, 2013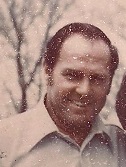 Fred Vernon "Fritz" Moore, 87, of Janesville died December 5, 2013 at his son and daughter-in-law's home in San Tan Valley, Arizona. He was born in Cameron, WI on May 11, 1926, the son of George and Esther Moore. A Janesville resident since age 16, Fred entered the U. S. Army in 1944 and served with the 77th Infantry Division in the invasion of Okinawa receiving the purple heart for his service. After retuning from the service, Fred was active in sports playing fast pitch softball and baseball and was a Golden Gloves boxing champion. He married Arbutus Harter on June 10,1950. Fred was employed in the paint department of General Motors for 30 years retiring in 1978 as a foreman.
Surviving are one son, Richard (April) Moore, one grandson, Kevin Moore, two step-grandchildren, Mark and Vanessa as well as seven great-grandchildren.
Private graveside services and burial will be at a later date in Oak Hill Cemetery where he will be buried with his beloved wife, Arbutus who preceded him in death on January 30, 2013. Henke-Clarson Funeral Home is assisting the family..